The applied science of ergonomics uses data to optimise products and environments to help users enjoy a better overall experience. Ergonomic design aims to improve:
Comfort
Performance
Satisfaction
Health & Safety
Take a look around your environment now. Everything you can see that is man-made has been designed to fit the end user, from the handle on your coffee mug, to the shape and size of the room you're in. Nothing is accidental; human civilization has been crafted precisely according to the structure and capabilities of our bodies. The world would look a little different if, say, we all had eight legs instead of two.
However, when we describe something as ergonomic, we don't just mean that it's fit for human use. 'Ergonomic' means that special attention has been given to the design to make sure it is the best possible fit for the user, the environment and the task.
Risks of poor ergonomics
Poor ergonomics is not the same as poor design. With design, ergonomics is just one factor out of many jostling for attention. Ergonomics must be balanced with other factors such as aesthetics (how a product looks), the market (what people want to buy), and budget, which can determine the quality of the materials and components used to build it.
Poor ergonomics describes a lack of unity between environment, task and equipment. An upright dining chair, for example, may not be considered ergonomic, but in the right environment, such as a rarely-used dining room, it fulfils its role perfectly. In an office environment in which people need to be seated for extended periods of time, the same type of chair could cause problems with its lack of lumbar support and the ridgid, static angle.
Common ergonomic injuries include
Carpal tunnel syndrome
Caused by pressure on the meridian nerve, which runs from the shoulder to the hands and is often caused by prolonged mouse and keyboard use.
Ganglion cysts
A bump under the skin (usually on the wrist) often caused by excessive overuse of the joint leading to inflammation.
Raynaud's disease
Limited blood supply and numbness to some areas of the body, sometimes triggered by repetitive movements.
Tendonitis
pain or inflammation in the joints, often caused by repetition and awkward postures.
Lower back problems
Can be caused or made worse by prolonged sitting in awkward postures, lifting, twisting and bending.
Other musculoskeletal disorders (MSDs)
over time poor posture and workstation set-up can lead to problems with the muscles, nerves, blood vessels, ligaments and tendons
The cost of work-related ill health
For businesses, the penalty for poor ergonomics can be high. According to HSE...
1/3 workers reported work-related ill health in 2016-17
39% of these were musculoskeletal disorders
40% were for stress, depression or anxiety
31.2 million working days are lost due to work-related illness
£14.9 billion is the estimated cost
Promoting good ergonomics
Because we all spend so much time at work, it's important for employers to promote good ergonomics. While buying appropriate ergonomic equipment is a vital first step, it is by no means the only solution.
Equipment
There are many, many ergonomic products to choose from on our website. We recommend you start by booking an assessment with one of our qualified assessors. They will spend time with employees to find the right equipment so you don't waste money.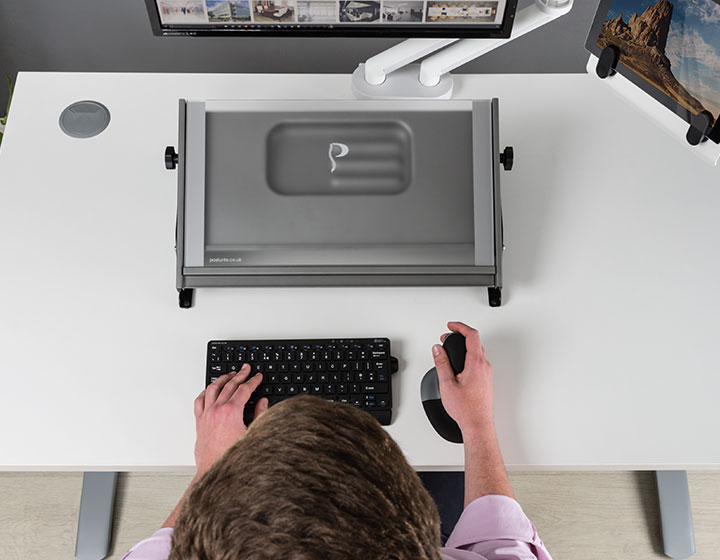 Workstation set-up
Workstation set-up is just as important as having the right equipment. Set-up is all about positioning equipment at the correct height, angle and distance for the user's needs. Our assessors can help with set-up but you can also do this yourself using the tips on our Art of Sitting resource.
Regular movement
The key to greater workplace health and productivity is finding the perfect balance between moving, standing and sitting. According to 'Hedge's 3s ideal work pattern' developed by Cornell University, you should break every working day into 30-minute chunks. Within each chunk, you should spend 20 minutes sitting, eight minutes standing, and two minutes moving or stretching. Download our active working day poster to remind yourself when to move.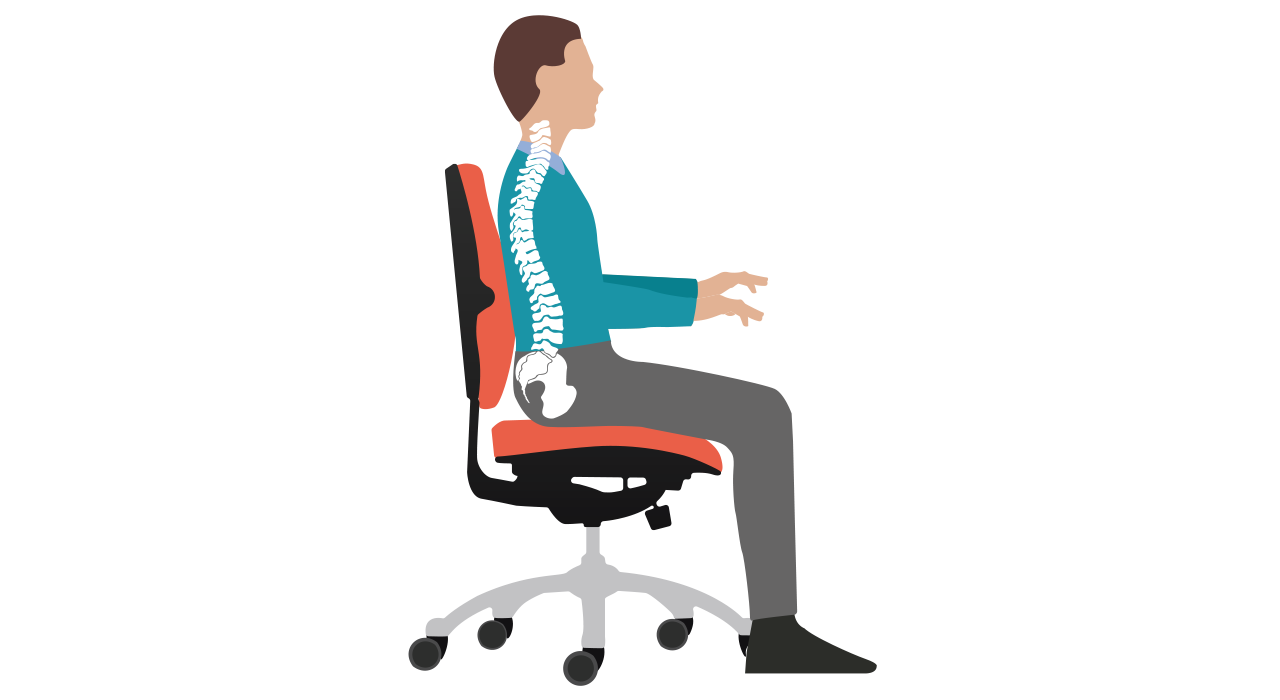 Good posture
People often underestimate the importance of good posture. We all know that poor posture - such as slumping and slouching, can cause aches, pains and injuries, but research shows that posture can also affect how we feel, think and behave. One study found that good posture can help us feel more positive and recall positive memories more easily. Body language is important: when we stand or sit tall, we feel more confident, powerful and alert. You can use our Art of Sitting resource to find out more about good posture.
Technology
People need digital tools and software that work. Unusable or slow software leads to frustration and lowered productivity. Ergonomics is all about usability, even when it comes to the technology we use.
Temperature
Workplace temperature can be a contentious issue because we all have different preferences. Too hot and we cannot concentrate, too cold and we can become stiff.
Humidity
Low humidity can cause dry eyes and throat, while high humidity can increase perspiration. Consider installing an air purification system to improve the quality of air in your workplace.
Regular breaks
Spending too long doing anything is bad for you. If you work at a screen all day, you are at greater risk of eye strain, headaches, blurred vision and general discomfort. You are also more likely to develop musculoskeletal issues. Managers should encourage regular breaks. For those who stand up and move around for their jobs, adequate seating should be provided and used at regular intervals.
Lighting
A workspace that's too light or too dark can cause strain on the eyes. Carefully consider the type and positioning of lights, ensuring that employees have access to natural light too.
Reflections and screen glare
Screen glare can also cause strain on the eyes. Screen filters can help solve this problem in environments where glare cannot be controlled easily. Browse our large collection of screen filters.
Noise
Noise can be very disruptive. Consider the types of work people will be carrying out when designing the layout of any workspace. If you can, provide quiet areas where people can go to focus if the environment becomes too noisy. For people who use phones a lot, a noise-cancelling headset can come in very useful. Browse our headsets.
Space
Poorly planned workspace layouts can cause problems - especially if employees feel their space is being encroached. Not enough desk space can increase the chance of bad mouse and keyboard habits. Our projects team can help with space planning. They design clever layouts that maximise all space available to improve office productivity and morale. Find out more about our space management and office refit service.
Get in touch
To request more information or to seek 'no obligation' advice, please contact our experienced customer services team on +44 (0) 345 345 0010 or submit an enquiry.