How to find the right keyboard to work in comfort.
Did you know that the shape, size and layout of your keyboard all influence how you use your arms, fingers, hands and shoulders when working at a computer?
Is it a good idea to have an ergonomic keyboard?
Comfort is important when we're typing. Ergonomic keyboards are designed to improve our positioning at our workstation, alongside other ergonomic equipment, and when positioned correctly can help to stop health and postural problems starting. Whereas a poorly designed or positioned keyboard can, over time, cause painful disorders.
Having an ergonomic keyboard to work from home doesn't cost much and can be incredibly valuable to your wellbeing.
What are the different types of keyboards?
Mini keyboards
The smaller length of mini keyboards help you to position your mouse closer in so your arms can be relaxed by your body, rather than having to reach out to the side. This then helps reduce your risk of upper limb disorders.
Mini keyboards often don't have a number section laid out like a calculator on the right-hand side. That's fine if you don't type numbers too frequently in your role, because you still have the numbers at the top of the keyboard when you need them.
For the best of both worlds, you could choose the Number Slide Compact Keyboard as its retractable number pad slides out when you need it and away when you are finished.
If you do go for a mini keyboard, the key layout of some of the function keys are sometimes different - it is worth checking the layout if this is something that is important to you.
Split keyboards
Many people find that a split keyboard or angled keyboard encourages a very comfortable typing experience (after a little getting used to) and helps prevent wrist pain and strain.
The left-hand keys are tilted outwards to sit under your left hand and the right-hand keys are tilted in the opposite direction to sit under the right hand. A clever design! This keyboard angle enables the wrists for many people to be in a more neutral position than if working on a traditional straight keyboard. The keyboard is split into two sections but joined and the curved shape follows the curve of fingertips for a more natural way of typing.
Full-size rectangular keyboards
Not everybody needs a smaller or angled keyboard, as this depends on our body size and the tasks we do. If a more traditional keyboard is what you're after, it needn't be ordinary - find a full-size ergonomic keyboard with backlit, soft touch keys in the Matias Backlit Soft Touch Keyboard. It's popular for having quiet keys.
You may need a keyboard which integrates with a rollermouse: you can place the RollerMouse Red directly below the Balance Keyboard with no need to reach to the side for a mouse.
Keyboards with a palm support
Some of our customers love using a keyboard which has a cushioned area beneath the keys – it's a case of personal preference. When used properly, a palm rest on a keyboard can help to keep the wrists in a healthy posture. It can reduce potential tension in the arms, shoulders and neck by providing a comfortable area to rest when not actively keying. NB it's designed for the palm of your hand, not your wrist!
What is a mechanical keyboard and what is a membrane keyboard?
Again, the keyboard you love using is a personal choice. An example of a mechanical keyboard is the Left-Handed Mechanical Keyboard; it has 'chunky', tactile keys which are satisfying to press for a smooth, rapid typing experience with plenty of feedback.
An example of a membrane keyboard is the high-performing Penclic Mini KB3 Bluetooth Keyboard – its keys are quiet when pressed and low in height. Membrane and mechanical keyboards differ in the construction of their keys.
See also specialist keyboards below.
Is it better to have a wireless keyboard?
A wireless USB keyboard can free your workstation from clutter by eliminating untidy cables and giving you more space to set yourself up in an ergonomic working position: great! The advantages of a wired keyboard are that it doesn't need charging and it can cost a little less than wireless.
Check the compatibility of a wireless keyboard in its specifications and if you will connect the keyboard to your computer through Bluetooth or by pairing the keyboard to a USB dongle which you'll insert into your computer's USB port.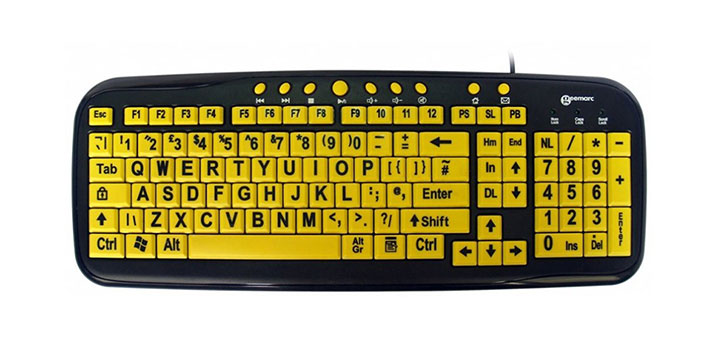 Keyboards with large letters or high contrast keys
A high visibility keyboard with large bold black letters on a yellow background can be very useful if you are experiencing an eye condition or sight loss - and some people just prefer one. For example the Monster 2 High Visibility Keyboard features extra-large, easy-to-see bright yellow keys and is hassle-free to set up. Check out also the easy to use, tactile 'quick buttons' ideal for non-typists with low vision on the Dolphin Large Print Keyboard.
Washable keyboards
You can wash the Seal Touch Silicone All-in-One Keyboard in the dishwasher! This keyboard has an antimicrobial, fungi static coating to inhibit the growth of bacteria. It has a built-in touch pad meaning that a separate mouse is not needed.
Left-handed keyboards
You can get a keyboard designed especially for left-handed people. The layout is flipped so that a number pad and control keys are on the left-hand side for easier, more natural typing, and to suit your left-handed mouse being on the left hand side of your desk.
What makes a keyboard ergonomic and different to an ordinary keyboard?
Repetitive strain injuries (RSIs) are often caused by making the same, usually awkward motions over and over again, over a period of time. This has been associated with using a keyboard and mouse if set up poorly and with inadequate rest. Your hands, wrists and shoulders can often be affected.
Ergonomic keyboards aim to reduce the risks of RSIs by helping to prevent unnatural movements. Sophisticated product development has gone into every aspect of good ergonomic keyboard design, with the anatomy and function of our bodies as the main focus.
Buying a suitable ergonomic keyboard to fit with the rest of your home office setup should give a boost to your health and productivity. The keyboards in the Posturite shop have been chosen because they're smart, satisfying and enjoyable to use.
Keyboard reviews
Reviews are great to help you choose a keyboard. Ergonomic keyboard reviews include: