Ergonomic design aims to improve:
Comfort
Performance
Satisfaction
Health & Safety
'Ergonomic' means that special attention has been given to the design to make sure it is the best possible fit for the user, the environment and the task.
Promoting good ergonomics
Because we all spend so much time working, it's important to look after our health, wellbeing and productivity and benefit from good ergonomics. Buying good ergonomic equipment is a vital first step, it's by no means the only solution.
Ergonomic equipment
There are hundreds of top-rated ergonomic products to choose from at Posturite and plenty of help to pick what's right for you.
You can start an Online Chat with our ergonomic product experts too.
Browse ergonomic chairs ›
Browse ergonomic desks ›
Browse ergonomic mice ›
Browse ergonomic keyboards ›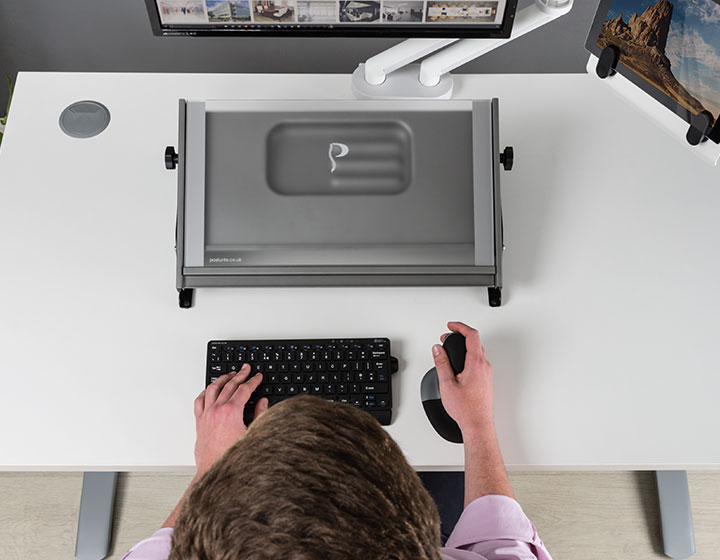 Ergonomic workstation set-up
Workstation set-up is just as important as having the right equipment. Set-up is all about positioning your equipment at the correct height, angle and distance for your size and shape and your needs.
Here's our Art of Sitting guide to help you get comfortable and productive – and protect your health.
Regular movement
For your health and wellbeing, aim to find a good mix of moving, standing and sitting when you're working. It's a good idea to break every working day into 30-minute chunks. Within each chunk, you could spend:
20 minutes sitting
8 minutes standing
and 2 minutes moving or stretching
Download our active working day poster to help you!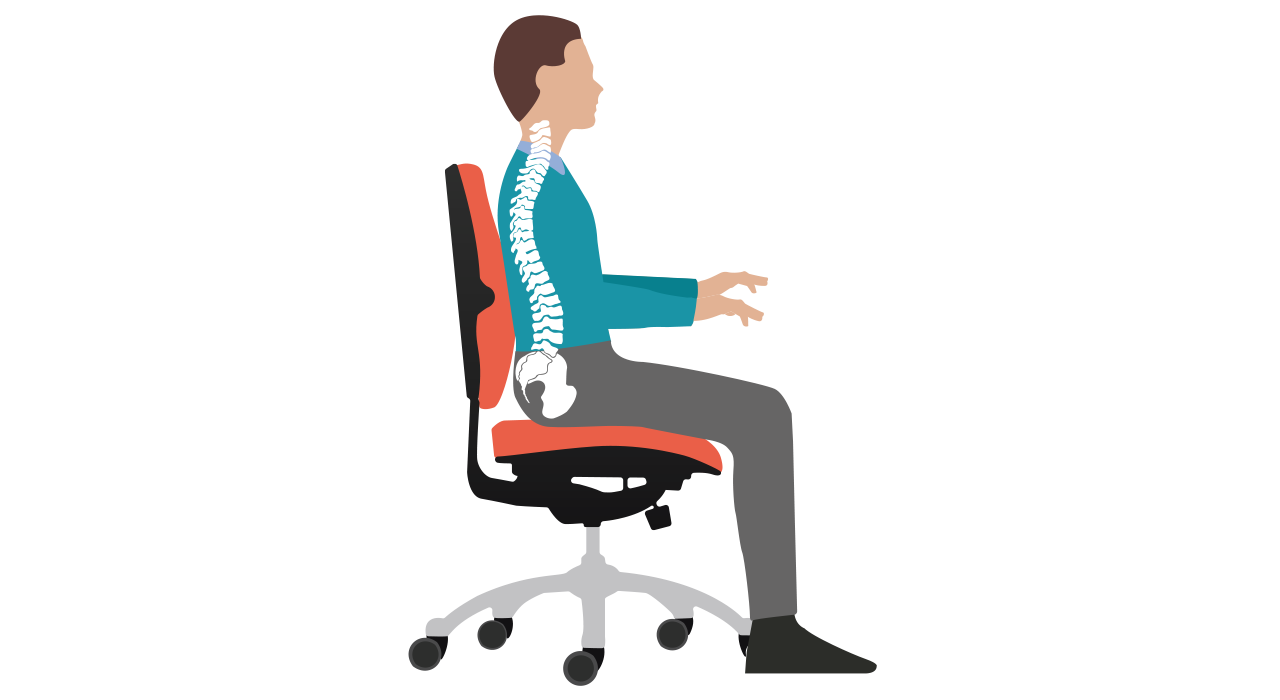 Good posture
People often underestimate the importance of good posture. We all know that poor posture - such as slumping and slouching, can cause aches, pains and injuries, but research shows that posture can also affect how we feel, think and behave. One study found that good posture can help us feel more positive and recall positive memories more easily. Body language is important: when we stand or sit tall, we feel more confident, powerful and alert. You can use our Art of Sitting resource to find out more about good posture.
Technology
You need digital tools and software that work. Unusable or slow software leads to frustration and lowered productivity. Ergonomics is all about usability, even when it comes to the technology we use.
Temperature
Too hot and we cannot concentrate, too cold and we can become stiff.
Lighting
A workspace that's too light or too dark can cause strain on the eyes. Carefully consider the type and positioning of lights and aim to use natural light too if you can.
Regular breaks
Spending too long doing anything is bad for you. If you work at a screen all day, you are at greater risk of eye strain, headaches, blurred vision and general discomfort. You are also more likely to develop musculoskeletal issues. Make sure you take regular breaks.
Reflections and screen glare
Screen glare can also cause strain on the eyes. Screen filters can help solve this problem in environments where glare cannot be controlled easily. Browse our large collection of screen filters.
Noise
Noise can be very disruptive. If your home is a noisy place to work, a noise-cancelling headset can come in very useful. Browse our headsets.
Space
Not enough desk space can increase the chance of bad mouse and keyboard habits. Even when your space to work at home is limited, you can find solutions that are ergonomic. Check our small home office ideas.
What's an ergonomist?
An ergonomist designs and tries to ensure that systems, products and workplaces are well-designed to suit:
Human anatomy
Abilities
Thought processes
Our Lead Consultant in Ergonomics at Posturite is a key member of our team to help us share ergonomic advice and tips with you.
Get in touch
To request more information or to seek 'no obligation' advice, please contact our experienced customer services team on +44 (0) 345 345 0010 or submit an enquiry.