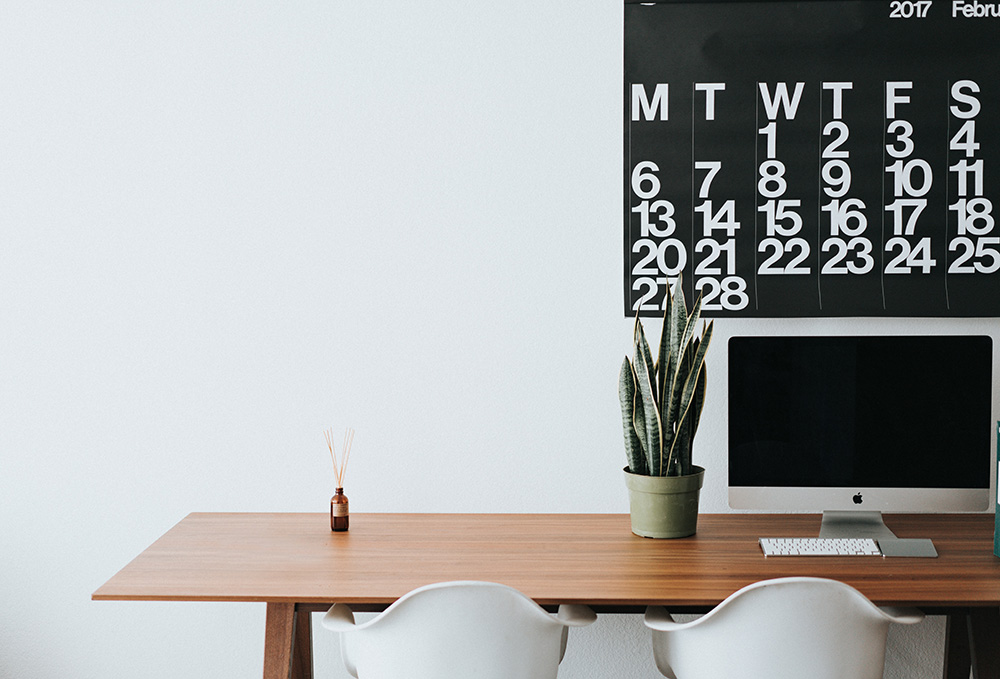 It's 2021 and home working is here to stay. What was once viewed as an optional working benefit has now become normal for many modern businesses. There are plenty of benefits that come with working from home; there's no commuting and you can keep on top of household chores with ease. However, for some of us, home working poses some major challenges.
Home working is particularly difficult with restricted indoor space. Smaller rooms are already a mammoth interior design challenge, but what about fitting in a functional home office desk?
If you don't have a dedicated office or your rooms are just a bit on the small side, working at home might not be such an exciting prospect. After all, you need to be comfortable and supported if you're working from a computer or device for long hours. Well fear not, because we're here to help with some small desk ideas and inspiration for your newly found working area, to help avoid clutter and boost your productivity.
The folding desk
While not the most rigid piece of furniture, a folding desk can be a great temporary solution to give you a dual-purpose space. These desks are easy to store, clean and transport. This makes them an excellent choice for those with limited room.
When it's needed, a folding desk like The WFH Folding Desk (pictured) can be quickly assembled thanks to quick-fit materials and parts before being stowed away at the end of the working day.
The WFH Folding Desk is made with strong, economical plywood and can be quickly folded out to a full-on 100cm desk in seconds.
Corner desks
View this post on Instagram
Corners are always an awkward spot for design. There's not much space in them to begin with, so opening them up to be a practical working area can be difficult – but corner desks act as a great solution. These cleverly designed pieces of furniture can effortlessly fit into 90-degree corners to provide a more than adequate work surface for your 9-5.
@ragandbyrne got creative with a clever piece of indentation to help with typing in their corner desk. If you want to do this too, consider our Corner Keyboard Adjuster. This easy device will help you improve your typing position and overall posture when working at a corner desk by providing a stable surface to rest your keyboard.
Narrow desks
If corners aren't an option, try a narrow desk instead. Although these desks do compromise a little on storage and surface area, they're great for maximising space in homes that are already cramped with other essential furniture.
The Smart Slot Basic Homeworker Desk (pictured) is great for this. It can be packed away easily thanks to its simple construction, and is narrow enough to fit in extremely tight spaces.
If you opt for a small desk like these one, we recommend minimising clutter by opting for a wireless mouse and wireless keyboard. If your space allows, you could also look at wall-mounted lights and shelving.
Portable storage
One common theme with compact furniture is that it can lack additional storage features. One way to combat this is with a portable pedestal that can be easily moved from room to room.
If you're looking for something sleek and elegant, we recommend a pedestal that features castors for effortless portability, as well as a robust steel design that will last for many years to come. Or, if you're after something a little simpler, the Smart Slot Pedestal features a click-fit design, making it incredibly easy to construct and move around.
Floating desks
View this post on Instagram
This one's for the more DIY-inclined among you. Floating desks ooze class and minimalism, but they're also incredibly customisable – a great benefit for anyone with restricted space.
@themindfulhaven has smashed it with this design, which comes complete with modern décor elements and some lovely natural light for a productivity boost.
Clearing equipment clutter
Making sure you don't have any unnecessary clutter is an important step that'll allow you to maximise your available space, which is particularly important if this is something you're lacking. So, before you invest in any new furniture, consider having a clean out of any old possessions that are gathering dust. You may well be surprised at just how much room you can save by simply sorting through your things.
Next, organise your remaining work items by how often you need them. Items you rarely use, like spare cables and stationery, can be packed away rather than clogging your limited desk space.
Choose your chair wisely
Some home office chairs are tall, with extra muscular support and reinforced frames, while others are just a little bit too big and awkward to justify their use in tiny rooms. Perhaps one of the easiest ways to gain back some floor space is by choosing your chair carefully and opting for a more compact model.
Choose your chair carefully based on how often you'll be using it and the specific support you need, as well as how it'll fit into your space. We particularly love the Homeworker Plus Ergonomic Chair (pictured) for this exact purpose. It's small, lightweight, manoeuvrable, and offers ample lumbar support to prevent fatigue while you burn the midnight oil. An ergonomic chair like this one is always an excellent choice, particularly if you'll be seated for large portions of the day.
Closet desks
View this post on Instagram
If you have a closet or airing cupboard that's filled with old stuff, you may want to breathe some life into it by repurposing the space as a small working nook. First, clear it of any unloved belongings to make room for your essential equipment: the worktop, chair, and laptop/computer monitor. Then, take a good look at the space and start thinking about how you can transform it.
We love this office space evolution by @lonefoxhome. They've done a great job of maximising the space by adding in some floating shelves above their new desk. This is great for holding onto things that either don't have a home or you simply can't get rid of.
Under-stair desks
View this post on Instagram
An under-stair desk makes a lot of sense: it's out of the way, unobtrusive, and can even be extremely practical. The space underneath stairs is often used for miscellaneous storage, but it rarely gets used to its full potential. Just be sure to pair your clever new workspace with an equally innovative office chair.
The HÅG Capisco Puls 8010 could make a great fit, with its small footprint preventing any extra furniture bulk.
This example from @livalittlehome is one of the most creative ideas for space saving that we've seen. We love the addition of lumbar support on the chair, as well as the laptop stand to keep everything at eye-line. There's also a ton of useful storage to make use of (we're sure it won't stay empty for long!).
Space saving desk ideas from Posturite
Now that you know what to do with your small space, consider kitting out your compact working area with some of our ergonomic products.
We stock a full range of ergonomic accessories that can help you refine your working position and prevent aches and pains. For tailored advice, feel free to contact us today.