Explore inspiring living room office ideas to create a work area that's discrete, stylish and great for your health and wellbeing.
Studying or working from home with limited space? Get creative with your layout and living room office furnishings. A small desk for your living room is a great investment, as it gives you a dedicated space to work (away from the sofa!) without needing a spare room. While some people prefer to set up desks in their bedrooms, a living room office is ideal if you want to keep work and sleep separate.
Living room office benefits
More space to set up ergonomically (usually)
Comfortable, familiar environment
Boost productivity with a suitable set-up
Separate your work and your sleep
Things you'll need for your living room office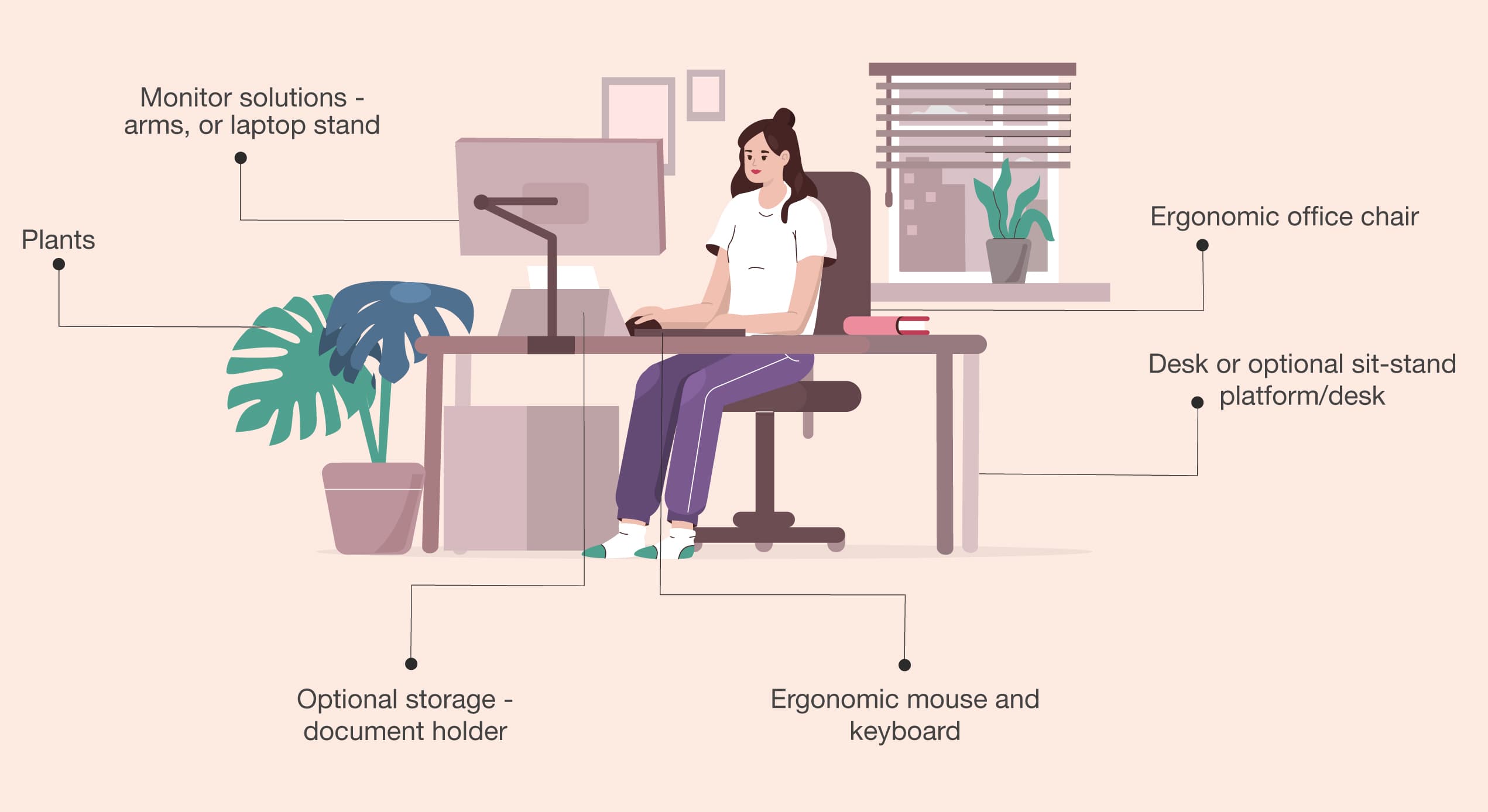 Living room desk ideas
Thinking of placing a desk in your living room? Carving out a dedicated workspace is a great idea — especially if you don't have a spare room you can transform into a home office or study. Check out these living room desk ideas and tips for inspiration:
Take measurements
If your living room is a little cosy, you may need to move existing furniture around to make space for your new living room desk. Make sure your living room desk is big enough for all of your equipment to be positioned ergonomically. A space that's small and cramped may restrict your posture and movements, potentially leading to musculoskeletal problems.
Make sure you have enough space to set up correctly: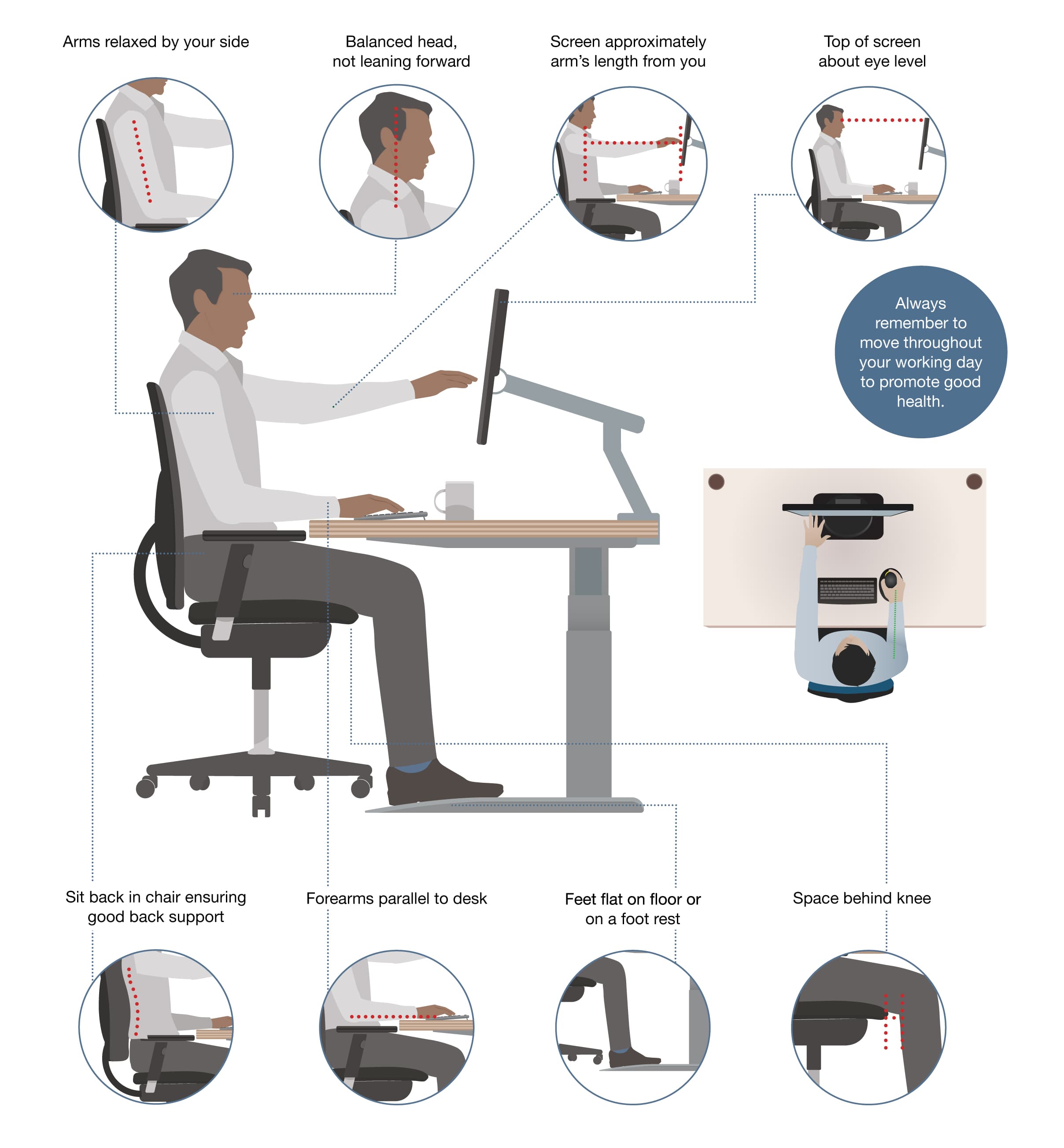 Sit-stand desks for your living room office
Living room office chair ideas
It's important to have an adjustable desk chair for your living room office. You might be tempted to make do with a dining chair, or even an armchair, but good support is essential if you're going to be working for more than 15 minutes at a time.
What features should you look out for in a living room office chair?
Size — always check the living room desk chair's specifications to make sure it fits in the space you have.
Ergonomic features — look for a swivel base, height adjustment and back adjustment as standard, and for a little extra customisation and movement, opt for a living room desk chair with movement mechanisms, seat slide adjustments and in-built lumbar support.
Fabric finish and colour — as it's going in your living room, a space where you, family members and guests probably spend a lot of time, you'll want to choose a chair that looks as good as it feels. Many of our ergonomic chairs come in a range of fabrics and colours, so always check the drop-down options.
Living room office accessories
Once you've carved out a dedicated homeworking space and furnished it with a living room desk and office chair, you'll be ready to add storage solutions, ergonomic accessories and decorative details, such as art and pot plants.
Top tip: Don't allow your living room desk to become cluttered. The more empty space you leave, the easier it'll be to move your screens, keyboard and mouse to find comfortable working positions throughout the day. While adding plants can boost your productivity, opt for wall-mounted shelves instead of turning your desk into a veritable greenhouse.
Living room office mice, keyboards and laptop stands
Living room office storage solutions
Tips for working productively in your living room office
Now that you've created a stylish and ergonomic office in your living room, it's time to get to work. But working from home comes with its own challenges, especially when you're trying to be productive in the place where you also watch TV, relax and socialise. Here are our top tips for being productive while keeping that all important work-life balance in your living room office:
1. Have a daily cleaning ritual
Living rooms can be busy places, which means they get messy easily. A cluttered environment can affect your wellbeing more than you realise. Establish a cleaning ritual:
Morning: do the dishes, plump the cushions, open the window and run the vacuum round
Evening: wipe down your workstation and equipment
2. Move around every 30 minutes
As with all sedentary work, it's important that you move and stretch regularly. This is good for your health and focus. Use a sit-stand desk, or set an alarm to go for a brisk walk around the house.
3. Go somewhere for your lunch break
It's probably not a good idea to relax, work and eat in the same room. Have your lunch in another part of the home or — better yet, go for a walk and take in a little nature.
4. Close your laptop at the end of the day/hide papers and devices
Create a psychological barrier between work and relaxation by actually hiding your work equipment. Put everything into a drawer, or arrange them in a pile. This way you won't be reminded of work tasks just as you're about to chill out in front of the TV.
5. Don't work on the sofa
It may be tempting (and seemingly comfortable) to work from the sofa sometimes, but try not to do it all the time. Soft furnishings often lack adequate support so over time, your musculoskeletal system will be overcompensating to keep you supported.
Need more small office inspiration?
Perhaps your living room isn't ideal for a home office. Explore how to transform your bedroom, study, or spare room into a healthy, comfortable, inspiring space to work from home.