Be smart with space: create a bedroom office that's compact, attractive, and comfortable enough to keep you focused.
A little creativity goes a long way when you're studying or working from home with limited space. The trick to being as productive as possible is to set up a small desk, an ergonomic office chair and your work equipment in a quiet part of your home. Some people choose to set up in their living rooms, but there are some unique benefits to opting for a bedroom office — especially if you live with other people.
Lower noise levels
Greater privacy
Fewer distractions
Comfortable, familiar environment
Things you'll need for your bedroom office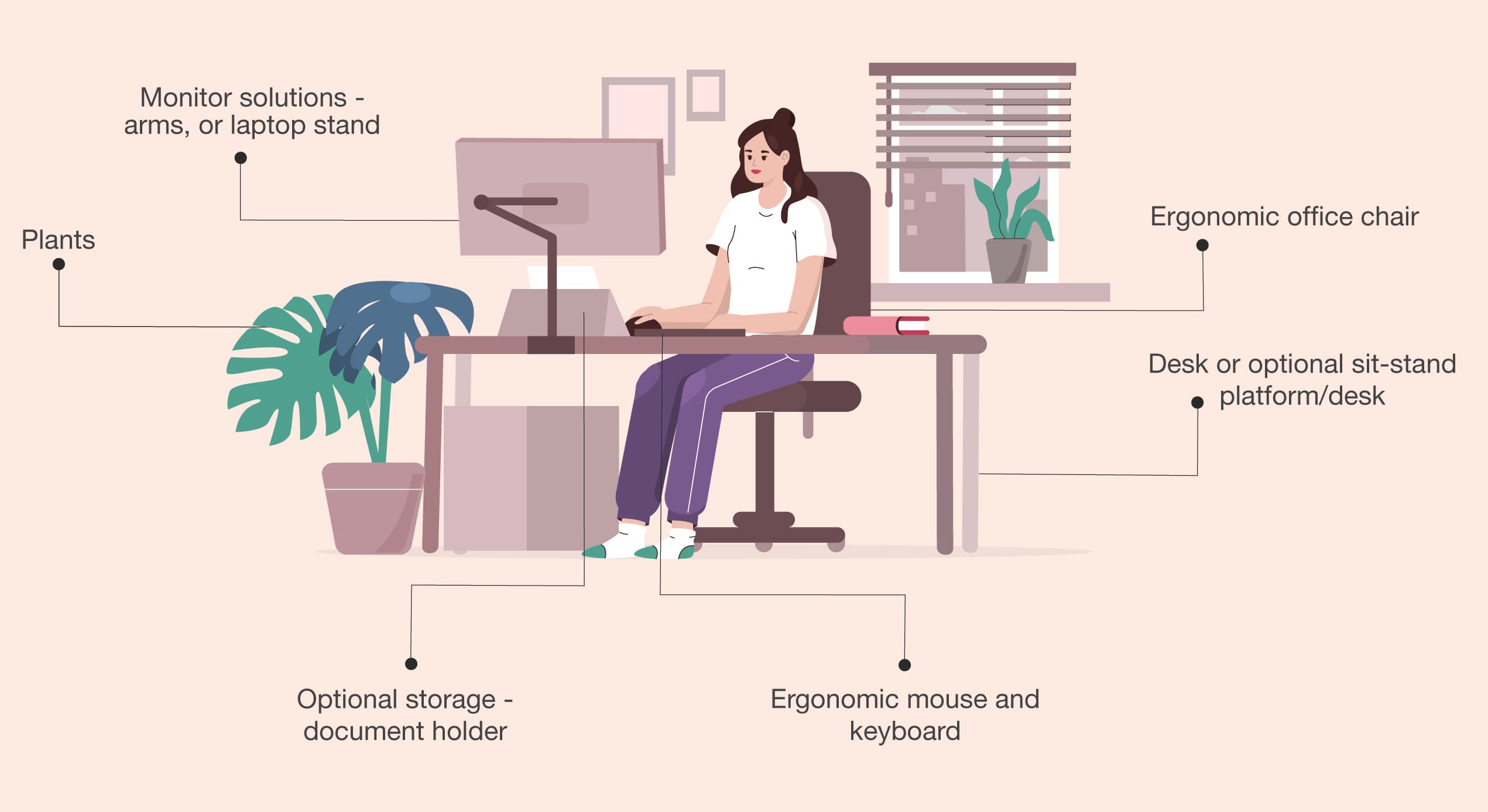 Bedroom desk ideas
What do you need to know when choosing a computer desk for your bedroom?
Measure your space
If your bedroom is on the small side, you may need to rearrange furniture to make space for your workstation.
Make sure your bedroom desk is large enough for you to arrange your equipment across it suitably. A cramped space may restrict your posture and movements, leading to painful and disruptive musculoskeletal problems.
Make sure you have enough space to set up correctly: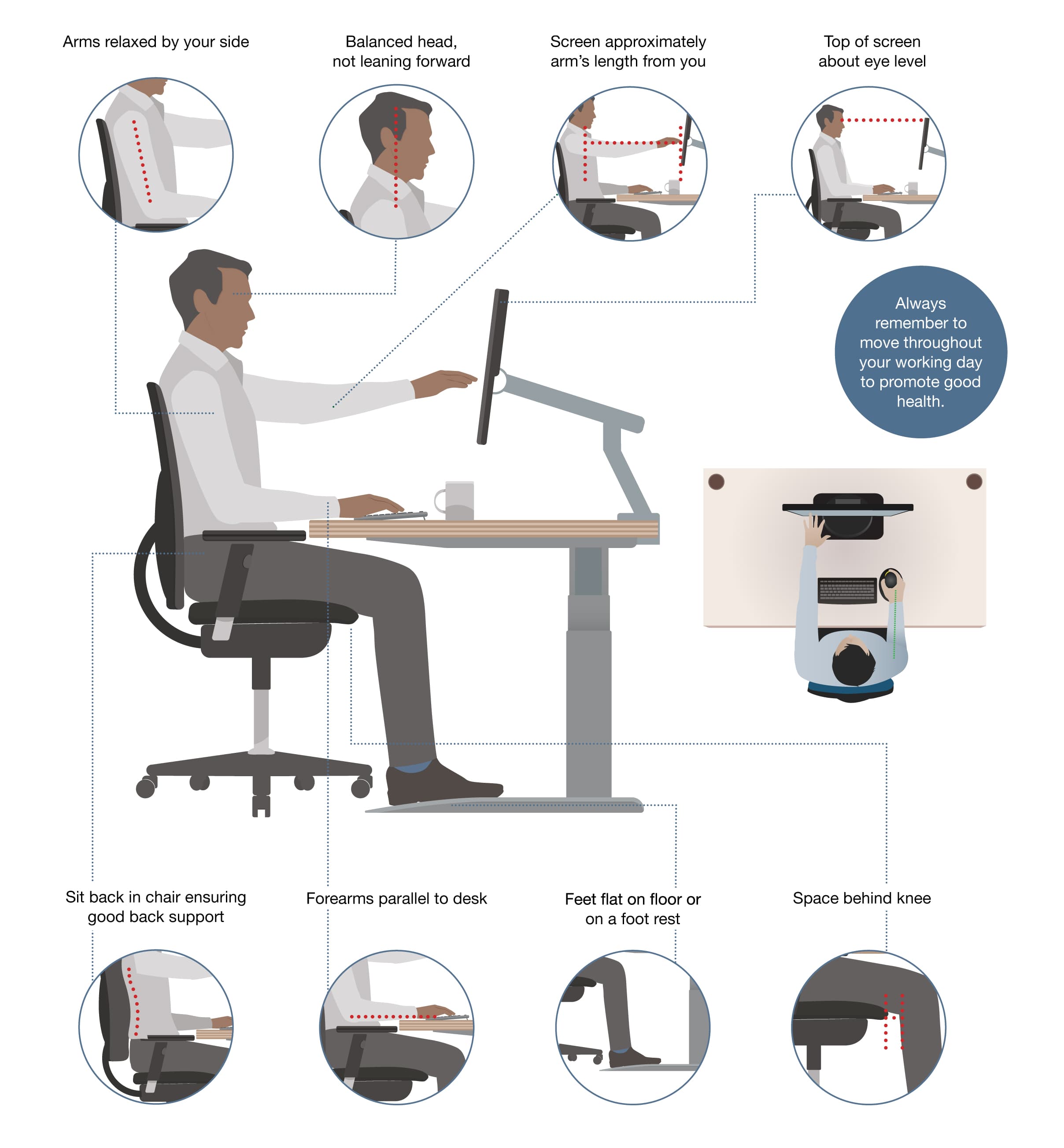 Sit-stand desk converters for your bedroom office
Bedroom office chair ideas
It's important to have a comfy desk chair for your bedroom. While it's OK to work while sitting on your bed for very short bursts (taking a call, for instance), it's better for your posture and productivity to use a bedroom desk chair.
What features should you look out for in a bedroom office chair?
Measurements — always check the specifications to make sure the chair fits in the space you have.
Ergonomic features — we recommend a swivel base, height adjustment and back adjustment as standard, but we also provide bedroom office chairs with movement mechanisms, seat slide adjustments and in-built lumbar support for a more precise fit.
Fabric finish and colour — as it's going in your bedroom, you'll want to choose a chair that fits your preferred aesthetic. Many of our ergonomic chairs come in a range of colours, so always check the drop-down options.
Bedroom office accessories
Once you've staked out a suitable space and kitted it out with a bedroom desk and office chair, you'll be ready to add storage solutions, ergonomic accessories and decorative details, such as pot plants and pictures.
Top tip: Don't add too much clutter to your worksurface. The more space you have, the easier it'll be to move your screens, keyboard and mouse to find comfortable working positions throughout the day. Plants can boost your productivity, but consider wall-mounted shelves and pictures to save space on the desk itself.
Bedroom office mice, keyboards and laptop stands
Bedroom office storage solutions
Tips for working productively in your bedroom office
Now that you've set up a comfortable, ergonomic office in your bedroom, it's time to get to work. But working from home can bring its own challenges, especially when you're trying to be productive in the place where you also sleep. Here are our top tips for being productive while maintaining a good work-life balance in your bedroom office:
1. Have a daily cleaning ritual
Bedroom offices can get messy quickly — and a messy, cluttered environment can affect you more than you realise. Establish a morning and evening cleaning ritual:
Morning: make your bed, fold your clothes, open the window and run the vacuum round
Evening: wipe down your workstation and equipment
2. Get up and move around every 30 minutes
As with all sedentary work, it's vital that you get up to move and stretch regularly. This is great for your physical health but also your concentration. Use a sit-stand desk, or set an alarm to go for a wander round the house.
3. Go to another room for your lunch break
It's probably not a good idea to sleep, work and eat in the same room. Have your lunch in another part of the home or — even better, head out for a walk and a complete change of scene.
4. Close your laptop at the end of the day/hide papers and devices
Create a psychological barrier between work and home by actually concealing your work equipment at the end of the day. If possible, slip your work things into a drawer, or tidy them into a pile. This way you won't be reminded of work tasks just as you're about to slip into bed for the night.
5. Don't work in bed
It may be tempting (and even comfortable) to work from bed sometimes, but try not to get into this habit. Even though no-one can see you, getting up, showered and dressed can have a significant effect on your state of mind. You'll feel more fresh and energised to work to your maximum.
Need more small office inspiration?
Not sure about turning your bedroom into a home office? Consider your living room, study, or spare room - all of which can become a healthy, comfortable, inspiring space in which to work from home.