An astounding 44% of British adults now suffer from at least one allergy according to Allergy UK. What can be done in the workplace to keep this growing proportion of our employee population safe and more comfortable? With changes to legislation last year, clean office air is no longer a nice-to-have, it's a must-have.
As Sir Patrick Vallance, Government Chief Scientific Adviser says: "We spend most of our time in indoor environments and making these healthier and more sustainable spaces will have wide benefits to our public health, wellbeing, and the economy. This will require action."
Clean air at work – what does the law say?
In 2022 the Government implemented revisions to the Building Regulations Approved Document F: Ventilation, to give detailed guidance on ventilation and importantly, indoor air quality (IAQ) in both domestic and commercial buildings, i.e. both at home and at work. The revised regulations state that new buildings with occupiable rooms, including offices that are larger than 50m2 floor space or 125m3 in volume, and smaller than 320m2 floor space or 800m3 in volume, should have a means of monitoring the indoor air quality. There has been such a stringent focus on improving the airtightness and energy efficiency of buildings in recent years, that the air inside can sometimes now be stuffy and conducive to the spread of pollutants and germs. The revisions to Document F directly address this concern.
Why is it so important to monitor and purify air?
There are a few reasons, including as mentioned earlier the fact that the number of people suffering with allergies is on the up, but external irritants that can exacerbate the symptoms of allergies are on the rise too. In the UK, air pollution is the largest environmental risk to public health with the 'annual mortality of human-made air pollution in the UK roughly equivalent to between 28,000 and 36,000 deaths every year.'
Air pollution
London has the highest percentage of deaths attributable to particulate air pollution of all the English regions (7.1%) with an estimated 4,000 deaths caused by air pollution each year. There are different effects of pollution depending on the length and intensity of exposure, as described in an article by London Councils.
Meanwhile, the World Health Organisation highlights data that shows almost all of the global population (99%) breathe air that exceeds WHO guideline limits and contains high levels of pollutants. Common sources of air pollution according to WHO include household combustion devices, motor vehicles and industrial facilities, all of which create pollutants such as carbon monoxide, ozone, nitrogen dioxide and sulphur dioxide.
Researchers from the universities of Oxford, Imperial College London and Beijing have in fact just published a worrying report which found long-term exposure to even relatively low levels of air pollution raised the risk of depression and anxiety. This was a study tracking the incidence of depression and anxiety in almost 500,000 UK adults over 11 years.
Hay fever, especially in the summer months, is another real problem for many people. One in five people suffering with hay fever have had to take time off work because of their symptoms and employers are implored to take the illness more seriously as the problem is set to affect more of us by 2030.
Unless a building utilises the correct air purification systems, these pollutants can be in the air we breathe at work all day.
How to achieve cleaner air at work
Air filtration systems are one of the best ways for employers to monitor and ensure clean air in the workplace. The workplace health and wellbeing experts Posturite agree and offer a range of AeraMax® air purifiers to suit different workspaces and budgets. In addition, for individual workstations, the AeraMax® SE and SV deskside air purifiers offer a portable, more personal solution.
This video offers a great explanation of how air filtration systems work to provide clean air at work.
More benefits of air purification in the workplace
We have seen the need to improve the air in our workspaces for allergy sufferers, but what are the other benefits of installing office air purifiers?
Reduces germs – as well as getting rid of pollutants, air purifiers can rid a space of any germs that might be floating around in the air. Removing them from the office environment can help stop the spread of viruses and give employees more confidence to get back into the office. In addition, the fewer viruses there are circulating in a workspace, the fewer absences there will be for employers to navigate.
Increases productivity – we have probably all worked in hot and stuffy environments at some point in our careers. It can be hard to keep your eyes open, let alone produce your best work! The fresher the air around us, the easier it is to stay energised and get the work done.
Irradicates odours – there can be many odours in the workplace that are outside of an individual's control, including from cleaning products, smoke, cooking, chemicals, and paint. Bad smells can affect how well we can concentrate, so irradicating them with an air purifier not only improves our wellbeing, but also make us more productive.
Less dust – there is always an amount of dust circulating, even when a space is cleaned regularly. This can affect people with allergies, but also the office equipment we use if not given an in-depth clean on a regular basis. Air purifiers can help reduce the amount of dust in the room and therefore reduce dust build-up.
Reduces mould – Similar to dust, mould spores can float around in the air and spread through an office environment, affecting people with respiratory diseases. These spores can also be sucked away by air filtration systems, preventing any further spread.
Clean office air is the future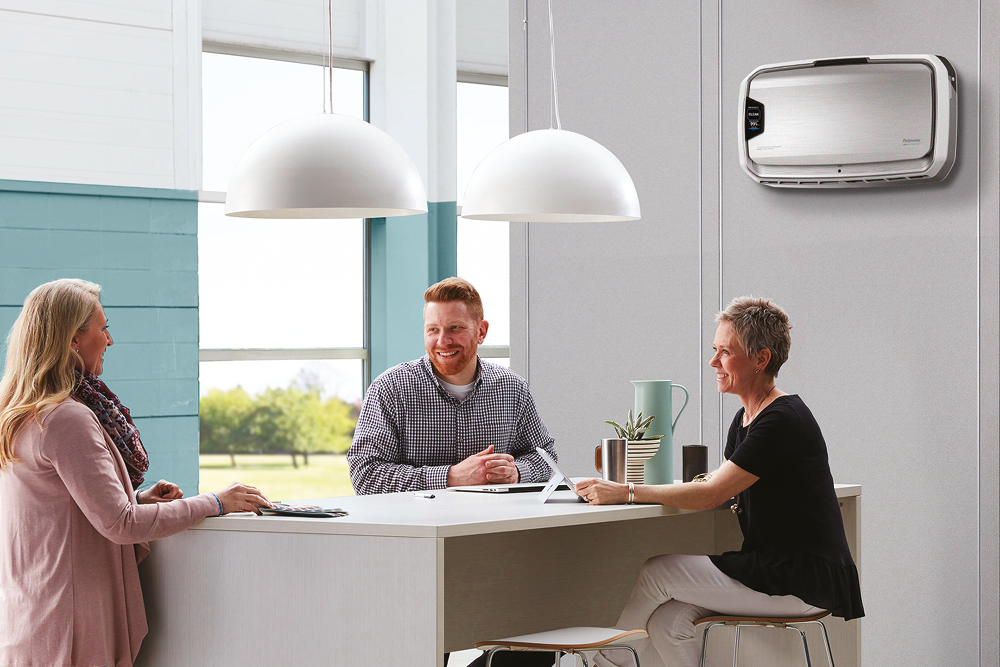 With so many people suffering from allergies in the UK, and the spread of viruses front and centre of many minds, cleaner air in the workplace is a necessity. It benefits employees by offering a safer work environment that improves health and wellbeing, and it benefits employers by reducing sickness in the workplace and improving productivity. Cleaner air through air filtration delivers a win-win solution.
---
Do you have a question about air purification in the workplace? Drop the Posturite team a line for specifications and a quote.