Should all your employees have access to an office headset, or is hands-free calling an unnecessary expense?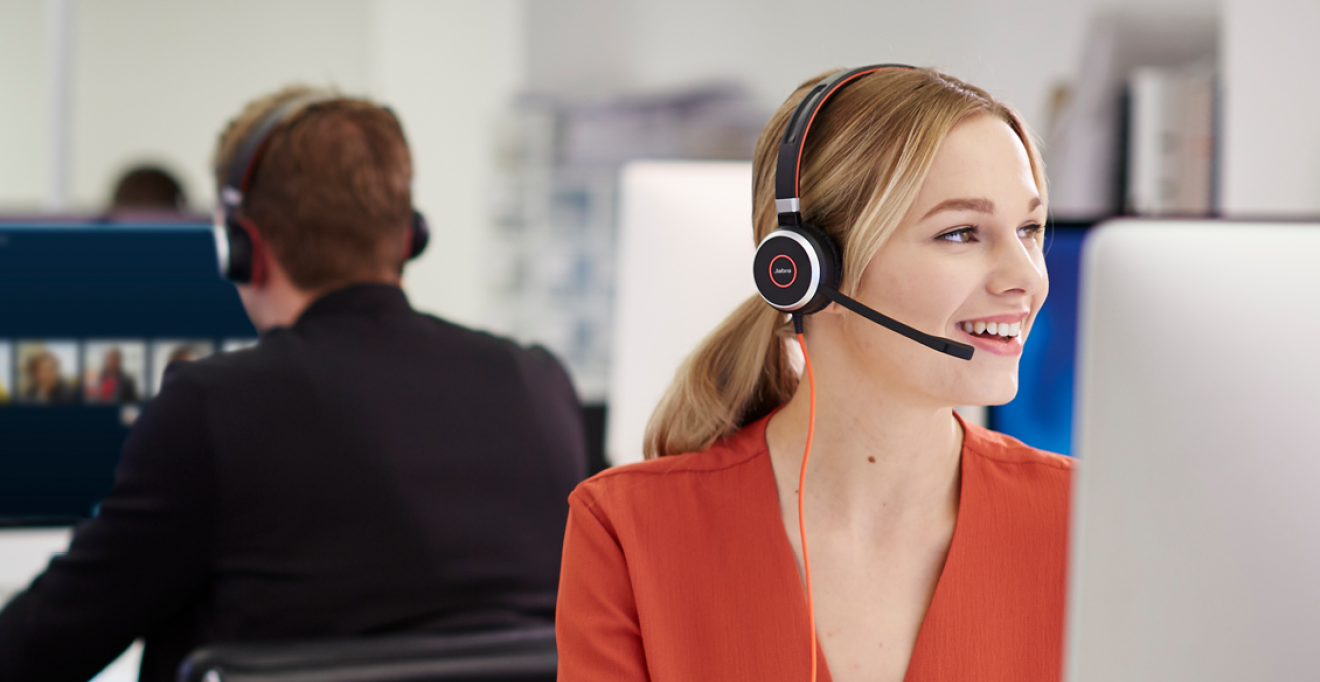 We believe wired and wireless headsets play an important role in the daily lives of computer-users. Not only are office headsets convenient, allowing clear, private, hands-free calling - they're also more ergonomic than desk phones.
Some of the typical ergonomic risks of using a desk phone include:
Repeatedly reaching for your phone can put strain on your arm, shoulder and neck.
Cradling the phone between your shoulder and head can result in neck pain. This pinching results in undue stress, along with nerve compression, in the neck and shoulders. These conditions can lead to problems in the arms, hands, and spine.
Telephone wires often get tangled, limiting the handset's mobility and forcing the user to move into awkward positions.
Can you lower the ergonomic risks of phone-use without a headset?
You can, to a point. While having the right equipment is important, there are ways to decrease some of the ergonomic risks of using desk phones. Try keeping your phone within reach, keeping calls short, switching your holding hand regularly, and remember not to pin the handset between your ear and shoulders. While this can help lower your risk of injury, it isn't always convenient, especially if your role involves lots of calling and note-taking.
The most effective solution is to connect an office headset
An office headset connects to your desk phone, computer, or mobile device either wirelessly, or via USB. There are several business justifications for wired and wireless headset use, including:
1. Reduce risk of musculoskeletal issues
Control calls without having to reach for your handset. Most headsets feature easy-access buttons for answering, hanging up, muting and volume. This eliminates risky reaching, twisting and prolonged gripping.
"The total costs [of musculokeletal injuries] to society are in the region of £2.3 billion per year" - HSE
2. Increase productivity
With both hands free, you'll be able to multitask. Take notes, handle documents and work on your computer without having to juggle with a phone receiver.
3. Improve conversation clarity
Many headsets come with noise-cancelling technology, ideal for busy environments. With better microphone and audio quality, calls are clearer and communication is easier.
4. Better for hybrid working
With the rise of hybrid working, Zoom, Teams and other online calling applications are now part of our daily lives. A headset affords workers the privacy they need to take video calls while in the office, and limits distractions when they're at home.
How much do office headsets cost?
Ultimately, businesses want to know how much it's going to cost to kit staff out with office headsets. Our office headsets range from about £35-£375 (ex VAT) each; however, we do offer discounts to our business clients who set up a free account with us.
How much you spend will depend on the style of office headset you choose.
Headset styles
1. Wired headsets
The cheaper option, wired headsets like the Jabra Evolve 30 II connect via USB to your phone or computer. While wired headsets don't offer the same level of freedom as wireless headsets, they still give you the means to make comfortable hands-free calls with lower musculoskeletal risk.
2. Wireless headsets
Enjoy the freedom to roam while calling with a wireless headset like the Jabra Pro 920. Without cables, you'll be able to walk to the water cooler, or pace around your living room to aid your thinking and ramp up your activity levels while still working.
3. Monoaural headsets
Monoaural headsets like the EPOS ADAPT 230 Bluetooth Mono Headset & Dongle have only one earphone. The idea is that you can stay aware of your surroundings while you talk on the phone. This is great if your job involves both calling and face-to-face contact with customers and colleagues.
4. Binaural headsets
To block out noisy surroundings and truly immerse yourself in a call, try a binaural headset like the EPOS ADAPT 260 Bluetooth Stereo Headset & Dongle. Ideal for hybrid working, this model from Sennheiser is lightweight, portable and wireless, and has a double-sided headband for stereo sound.
There is undeniably a good business justification for investing in wired or wireless headsets. Whether you are most concerned with improving ergonomics or increasing productivity, the right headsets can help achieve the improvements you need.
We're always here to help you choose, so why not start browsing all the different office headset options today.