Home office set-up guide
Are you unsure of how to set up a comfortable and practical office space at home? There are several things to consider, from how best to use the space, to making sure you maintain healthy working habits and good posture. From selecting your equipment, including desks and chairs, to finding the correct sitting position, find advice and home office set-up ideas below.
How should your home office look?
The look, feel and functionality of your home office is important. These factors will all depend on how you use the space and how often. You will also have to factor in the space itself: for instance, whether it's used solely for work, or is multipurpose, and whether it's large or small.
While home office spaces can be very different, setting them up in an ergonomic way is vital to limit the risk of aches, pains, and repetitive strain injuries.
Common challenges when setting up a home office:
Soft, unsupportive seating (sofas, armchairs, or beds)
Unsuitable equipment
Equipment not set up properly
Small space
---
Are home workspaces worse than offices?
When properly set up, a home office offers the same level of productivity and comfort as an office building. The key is to consider your specific needs for the space. If you are employed, your employer is responsible for supplying you with suitable equipment, as well as the training needed to set it up healthily.
---
How to set up your home office, step by step
Working from home is much more enjoyable – and healthy – when you have a comfortable workspace. However, it can be difficult to know where to start. Follow our step-by-step guide to ergonomic desk set-up and make sure your home office is the best it possibly can be to keep you protected from aches and pains.
1. Assess your space
The first step to achieving the best home office set-up is having a clear understanding of the space available. Once you've chosen the location for your home office, assess it thoroughly.
Measure your workspace
Before investing in equipment and furniture, measure the space you have available to make sure it fits comfortably while still allowing plenty of room for movement. Think about where each piece of furniture or equipment will go. Planning this out carefully help keep set up stress-free.
Lighting
Evaluate how much natural light your new home office gets, and how you'll make sure there's enough indirect light to illuminate your workspace. If overhead lighting isn't an option, you may need a free-standing lamp.
Privacy
Quiet and privacy are important factors that affect your productivity. If you're lucky enough to have a dedicated room for your home office, this may not be an issue. For workstations that sit within a larger room, you may want to consider a privacy divider.
2. Setting up your ergonomic equipment
Investing in high-quality ergonomic equipment limits your risk of avoidable injuries and strains. It's important to select equipment that suits your home workspace: take note of dimensions and product features.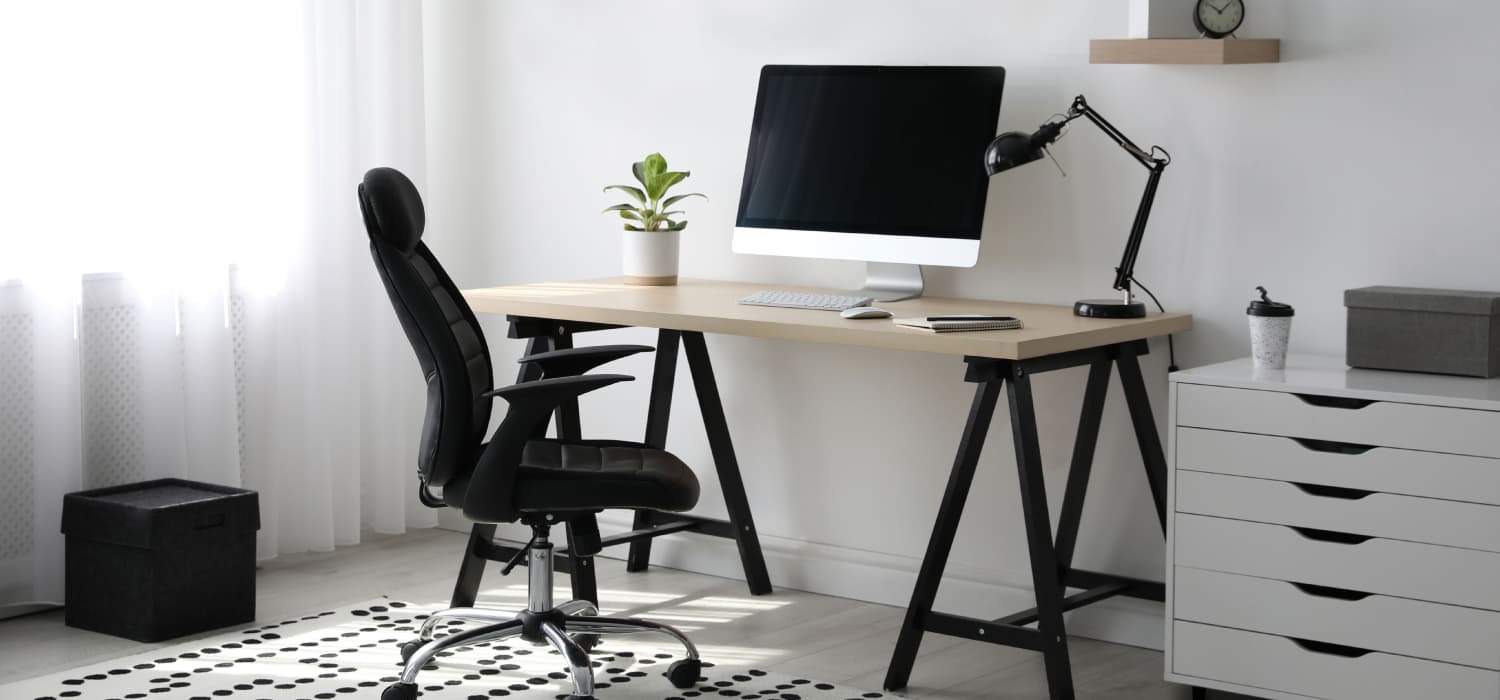 To gain the maximum benefits of your home office equipment, you will need to adjust the settings to your specific needs.
Your work surface
Make sure your desk or work surface is large enough to allow you to move your equipment around. This will help you achieve an arrangement that best suits you and the tasks you're completing.
To achieve an ergonomic desk set-up, there should be enough room to find a comfortable position for all your limbs with room to move. The height of your desk or surface should allow you to work comfortably, and also provide sufficient leg room.
If possible, position your workspace near a window. This will give you better access to fresh air and natural light.
Your chair
An ergonomic chair will provide the support you need while working from home. When setting up your chair, there are some key things to consider:
Seat height – you need the correct positioning for your work surface and your feet should be flat on the floor, or on a footrest.
Back height – your back should be fully supported.
Tilt – you should be at the right angle to work comfortably at your desk.
To learn more about chair positioning and how to find the correct sitting posture, read our guide: The Art of Sitting.
Your screen
You may choose to use a single screen or multiple screens, depending on the space available and the nature of your work.
The screen used most frequently should be positioned so that your head is upright, not twisted or side-bent, and content is easy to see without squinting or leaning forward.
Position yourself so there's no glare or reflection on your screen. To achieve the correct height, use a laptop or monitor stand, shelving, a monitor arm, or a laptop/tablet riser.
Your keyboard
Make sure your work surface is free from mess so you can position your keyboard within easy reach. This way, you won't need to stretch or strain your arms while typing. Wireless keyboards are particularly good for enabling flexibility, particularly if you enjoy a sit-stand approach when working from home.
Your mouse
It's much more comfortable and productive to have a separate mouse, rather than using a laptop trackpad. For both part-time and full-time work, an ergonomically-designed mouse gives you the support you need.
Position your mouse so that your arm is relaxed by your body and your hand is in a neutral position.
If clutter's an issue in your home office, wireless or Bluetooth models reduce the need for cables and port usage, helping to keep your workspace clear.
Your accessories
To achieve the perfect posture, you may need additional equipment for your workspace, such as:
3. Perfecting your homeworking environment
Once you've evaluated your home office space, selected ergonomic equipment, and set everything up carefully, it's time to consider the look and feel of your workspace. Decorating your space in soothing colours, adding plants and artwork are all ways to make your home office more inviting and enjoyable.
---
What next?
With all your new knowledge from this guide, you're ready to create an ergonomic workstation that'll keep you focused and comfortable while working from home. For other common work from home problems, like fatigue and low wellbeing, you might like to browse our other guides.
Back pain working from home
Working from home wellbeing
Working from home fatigue
Working from home productivity