Back pain working from home guide
Are you experiencing back pain while working from home? You're not alone. A risky blend of poor ergonomics and unhealthy habits has left many people experiencing more back problems at home than they do in the office. Find out what it is, how it's caused and what you can do to prevent and manage it in this working from home back pain guide.
What causes working from home back pain?
Back pain is a common but complex issue that has many causes. It can happen suddenly, or take a long time to develop. It can come from a medical condition, an unhealthy lifestyle, or even a sudden awkward movement. There is no one-size-fits-all solution to back pain, which is why it's so important to seek medical advice from your GP.
Working from home itself will not necessarily cause back pain, but working from home without suitable equipment and healthy habits can increase your risk.
Common working from home back pain causes:
Unsuitable equipment
Equipment not set up properly for you
Soft, unsupportive seating (sofas, armchairs, beds)
Poor posture
Working in one position for too long
Not moving enough
---
Is homeworking a back pain risk?
Working from home is only a back pain risk if appropriate measures are not put in place. If you are employed, your employer is responsible for making sure you have suitable equipment and training to set up healthily.
Studies show that back pain increased when office workers became homeworkers during the pandemic lockdown
1. An Institute of Employment Studies survey found that more than half of homeworkers reported new aches and pains, especially in the neck (58%) and back (55%) when switching from the office, to working from home over lockdown.
2. A study published in the International Journal of Environmental Research and Public Health found that increased sedentariness and poor posture triggered musculoskeletal disorders, particularly lower back pain and neck pain.
---
How to reduce your risk of work from home back pain
Working from home has many perks, from better work-life-balance, to reduced costs and emissions. However, to avoid back pain while working from home, it's important to develop healthy habits with posture, positioning and regular movement.
1. Invest in ergonomic equipment
Ergonomic chair
A good ergonomic home office chair is one that can be adjusted to your proportions. Make sure the chair back comfortably supports the S-shape of your spine at all times, and that you aren't hunching forwards. Many of our ergonomic chairs feature movement mechanisms, which allow you to rock back and forth without losing contact with the chair — great for keeping active.
Laptop stand or monitor arms
Work from home back pain could be caused by your laptop. Why is it such a risk? Because when using a laptop keyboard, the attached screen is likely to be too low, causing your head to hang forwards. This puts a large amount of strain on your spine. Use a laptop stand or, if you use a computer screen, adjustable monitor arms, to elevate your screen to eye level.
Reaching for your mouse over and over again, gripping too hard, and making small, repetitive movements with your fingers can all cause discomfort. Make sure your mouse is as close to your keyboard as possible, and try an alternative like a vertical mouse, or roll-bar mouse, which eliminates gripping and reaching.
Keyboard to suit your role
A full size keyboard increases the distance between you and your mouse. If you don't use your number pad frequently, consider switching to a compact keyboard. Alternatively, use a detachable number pad only when you need it. Consider how you type. Are you a hard typer? You may want to try a keyboard with shallow, laptop-style keys. Prefer tactile feedback? Then try a mechanical keyboard. Ergonomics is all about what's right for you.
2. Check your posture and positioning
Suitable ergonomic equipment helps you find a good posture and set-up at your desk — but what do you need to know to get there?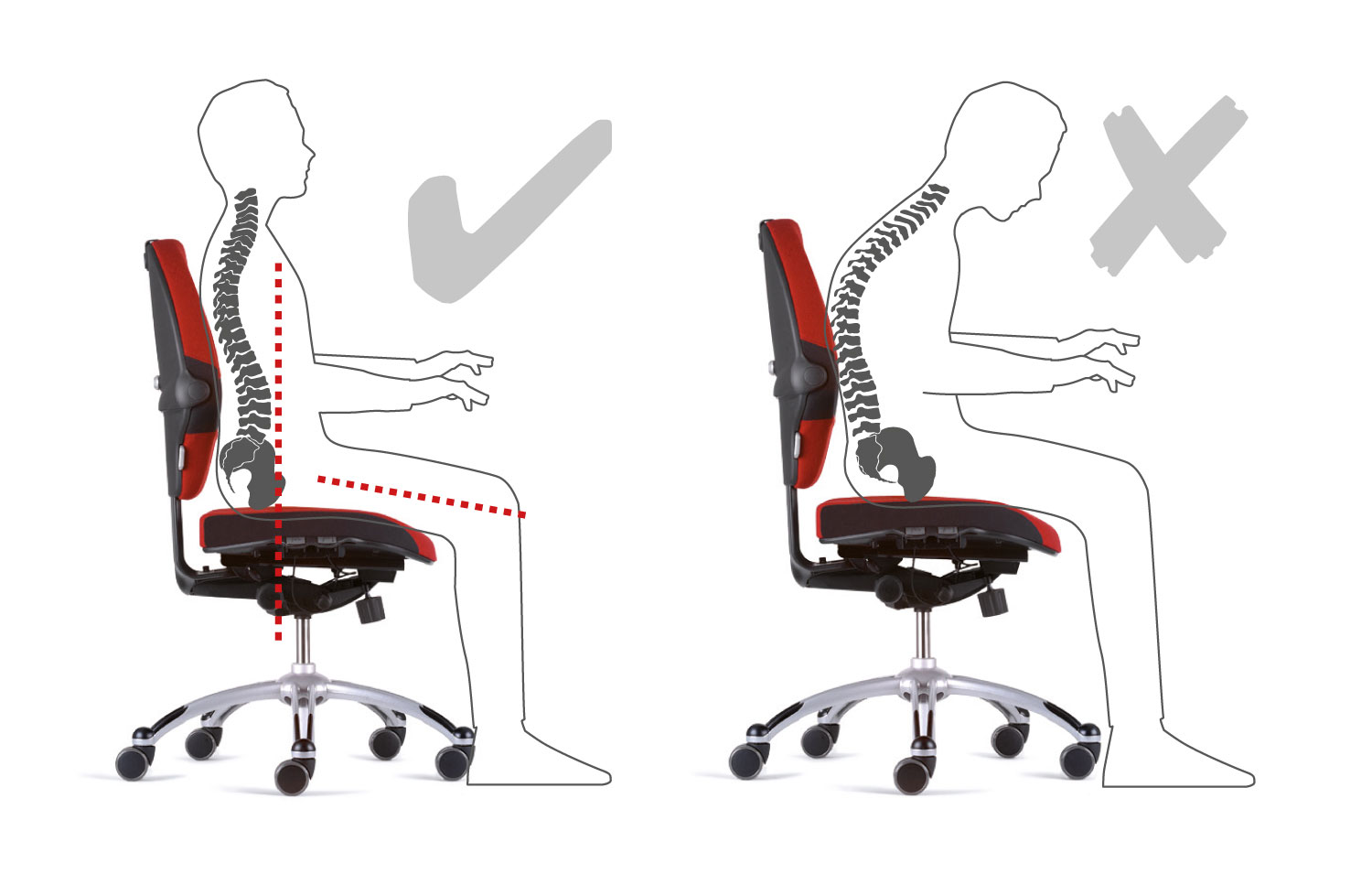 3. Take regular movement breaks
No matter how good your workstation set-up is, taking regular movement breaks is still crucial for reducing your risk of work from home back pain.
Scientists at Cornell University say you should break every working day into 30-minute chunks. Within each chunk, spend 20 minutes sitting, eight minutes standing, and two minutes moving or stretching.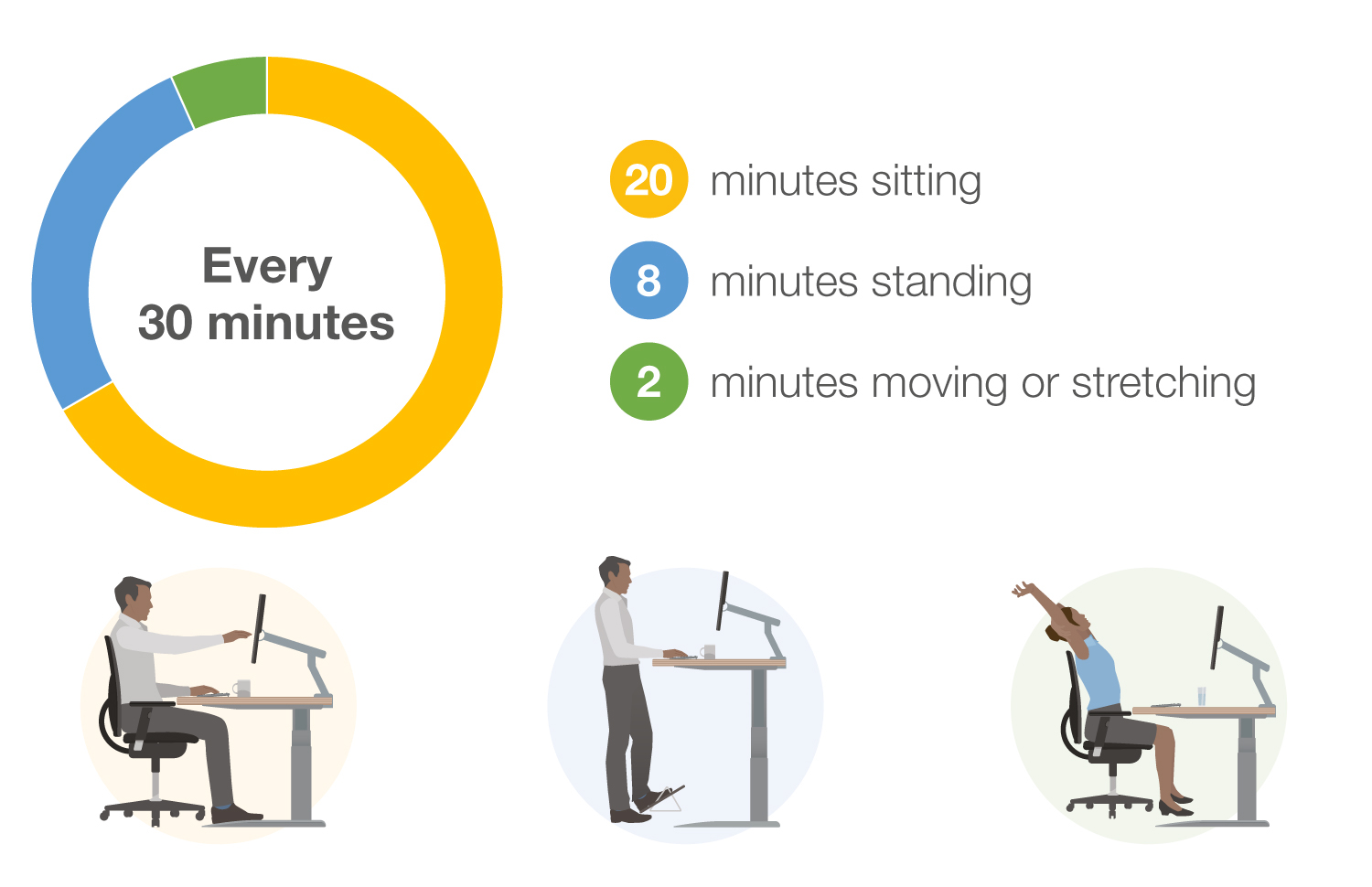 Tips for sitting
Feet supported
Hips slightly higher than knees
Sit back in the chair so you are supported
Forearms level to desk
Eyes level with top of screen
Tips for standing
Forearms level to desk
Head balanced
Shoulders relaxed
Feet hip distance apart
Consider using a footrest
Tips for moving/stretching
Take a walk around the office
Talk to colleagues instead of emailing
Use the stairs
Stretch regularly
Walk when you break
Sitting all day is bad for us. According to the NHS, sedentary behaviour can:
Increase the risk of type II diabetes
Increase the risk of cardiovascular disease
Increase the risk of some cancers
Reduce life expectancy
Increase occurrences of musculoskeletal disorders (MSDs)
Cause unhealthy ageing and poorer bone health later in life
---
What next?
Now that you're well equipped to manage or reduce your risk of work from home back pain, you might be interested in our other guides designed to help you stay healthy and productive while working from home.
Working from home wellbeing
Working from home fatigue
Working from home productivity