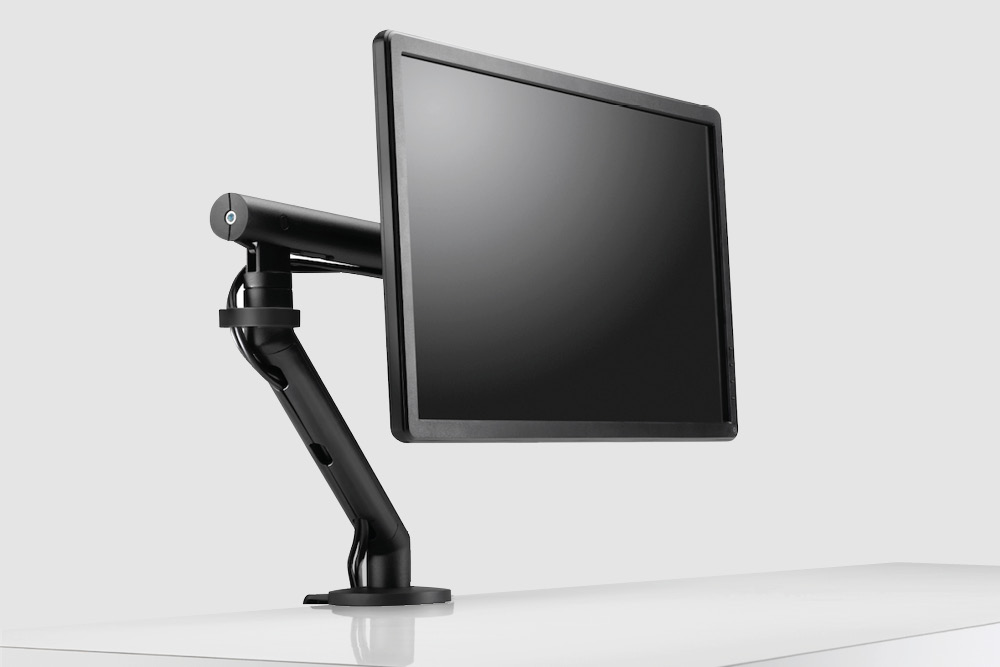 We love our electronic devices, but the clutter that their cables and wires often bring to our working spaces can be ugly as well as unsafe. If we can achieve tidiness at our home office or workplace desk, it boosts our productivity as well as helping us feel calm and in control.
This cable management guide offers up useful tips on how you can hide your messy cables for a cleaner looking office setup. I'll also provide vital safety tips, remembering that 33% of non-fatal workplace injuries in 2020-21 in the UK were slips, trips or falls on the same level, and tripping over cables is a major contributor to these accidents.
Here are a range of cable management options:
1. Use a wire basket for your cables
Let's kick off with an easy one – fix a wire basket for desk cables to the underside of your desk and it will support and suspend your cables, to prevent them hanging down where you sit and getting in the way on the floor. When cables dangle down without support, the weight of an object such as an AC adapter can place stress on parts of the cable, which is a safety issue. The basket for cables from Posturite comes supplied with the plastic fixing and self-drilling screws, and is equally suitable to be fixed to a modesty panel. The open design is good for preventing heat and dust building up – and to easily spot issues or change cables.
2. Use a vertical cable management 'spine'
Reminiscent of a human's or maybe a snake's anatomy, another easy and effective cable tidying solution is a flexible vertical 'spine' which reaches from the floor to under your desk. The Cableway Cable Management Spine is an inexpensive cable management product which you screw to the underside of the desk using the top bracket and has a weighted base for free standing on the floor. It has two compartments to segregate your power and data cables.
3. Use wireless devices
Why not eliminate the cable problem for as many devices as you can and enjoy a tidy clutter-free desk with a wireless mouse and wireless keyboard?
I started using the Logitech MX Master 3 Wireless Mouse this year and am now a huge fan! It's no exaggeration to say that it's one of my favourite pieces of tech at home. With a premium feel and smart, sleek styling, the ergonomic mouse with precise tracking is weighty to the right extent and, being taller than the average mouse, feels very comfortable in the palm of my hand. It seldom needs charging so the wireless aspect works brilliantly for me.
For a wireless keyboard I use the Bluetooth Number Slide Compact Keyboard from Posturite and I love its small size on my desk. (Bluetooth and WiFi are both wireless technologies by the way). Posturite also do a bundle of wireless office kit which is a great price and could therefore be attractive to students.
Printers are often the bane of our lives as office workers… but get yourself a wireless printer and at least you can bask in the glow of tidiness achieved via fewer cables. Lastly, there's a very elegant blue light-busting reading lamp on the market which lasts for 20 hours on one charge of the battery, allowing you to move it effortlessly from room to room without wires.
See the full range of office accessories from Posturite.
4. Use a monitor arm which contains the cables
Monitor arms are jam-packed with ergonomic benefits, and you can choose a model which cunningly tidies the cables within its structure such as the skillfully designed Tallo™ Monitor Arm - ideal if you're exploring how to route cables neatly on a desk. It controls wires with its clever integrated cable management so you can enjoy an uncluttered workstation.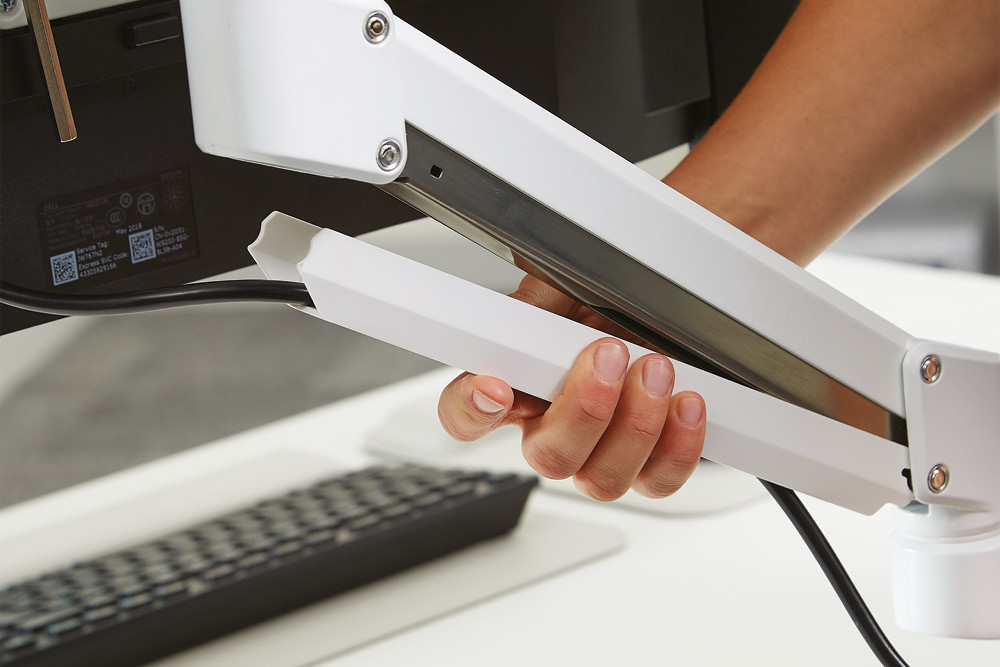 You could also add a Tallo™ Flexcharge Hub to wirelessly charge your phone; extremely handy.
Equally, the stylish CBS Flo Single Monitor Arm features a clever integrated 3-point cable management system to help you get those pesky cables under control. The contemporary high-spec look of the Tallo™ and the CBS Flo monitor arms both help your workstation look genuinely good from the back view.
5. Use a port hole
Another option is to look for a desk which has a cut-out hole in it to feed your wires through neatly. This slot-together homeworker desk is a good example. Then get yourself some desk grommets (no relation to Wallace) – the small disks you insert into the desk hole to help organise your cables. This will then offer a route for your wires through your desk and out of the way.
The cable hole in your desk could also house a through-desk power module for useful power, data and USB charging.
6. Use inexpensive cable tubes and clips
The lowest cost cable management solutions are cable tidy tubes from Fellowes and you can use simple cable clips to position your wires along edges of rooms and up walls safely, securely and neatly. It's vital to prevent people tripping over loose cables in the office. Pay special attention to where your cables connect to your PC, where there are multiple cables grouped together and where your cables connect to your monitor. You can also find plastic cable clips with peel and stick attachments which you stick to your desk and thread the cable through.
By the way, you've come to me to ask what the difference is between a wire and a cable? Well: a wire is a single conductor whereas a cable is two or more insulated wires wrapped in one jacket. There you have it!
I did explore the 'cable tidy box' options to show you too, yet so far only found this cable box which resembles a bread bin.
Are you considering getting a standing desk or sit-stand platform?
If a platform to go on top of your existing desk to enable standing while working is on your shopping list, then note that the popular Monto Sit-Stand Riser comes complete with integrated cable management clips.
And if you're already the proud owner of a sit-stand desk, then this particular cable management spine will likely be perfect for you. It has a spring-like expansion which stretches from 150 to a tall 1,300 mm - so the desk and all your devices can be moved up and down without disruption. Make sure your cable management spine has the capacity to accommodate several cables.
Explore the full range of office accessories from Posturite.
Electrical safety
Here's the HSE guide to maintaining portable electrical equipment. Remember never to plug extension cords together! When extension leads are connected in a series, the extension cord's resistance effectively increases, resulting in heating of the cord and possible damage to the insulation. This would put you at risk of fire and electrical shock.
If you use a desktop power module for power, USB charging, data and audio sockets, make sure it conforms to British Standards BS 5733, the 3.15A fuses comply with BS 6396 and also ensure there is segregation between power and data to comply with BS 6396.
A tidy workstation
Having a neat and tidy desk with ergonomic accessories can definitely enhance your wellbeing while you work and improve workplace happiness. As well as reorganising your cables, try to declutter your space - be ruthless and recycle, give away, sell or store anything that's not vital to your day-to-day work routine. Here are Zoe Thomas' 10 top tips for a tidy desk.