There are differing schools of thought on what 'anchor days' are and if this new buzzword will be adopted by most hybrid workers. Let's hear from three business leaders on their approaches to teamwork; Tom Kegode from Lloyds Banking Group (pictured above left), David Hughes from Mulberry Risk and Katharine Metters from Posturite.
Here are two alternative definitions of anchor days:
Frequent, regular office days with your immediate team to hold in-person meetings
Occasional days to meet in person with the entire team for socialising, learning and welcoming new people
The concept for both is that you are 'dropping anchor' and staying still for a little while to focus, in contrast to the time you busily spend 'out at sea' in multiple locations – including home – and out with clients. Meeting face to face is the crucial element.
2022 research by Microsoft revealed that 82% of business decision makers said employees returning to the office in person is a current concern.
"On an anchor day, we gravitate towards the office and prioritise being together face to face" says Tom Kegode, Work:Lab Lead, Future of Work, People and Places for Lloyds Banking Group. "We prioritise the personal activity and we try and push out our Teams calls to other ends of the week."
"It's not about having a mandated day in the office that everyone must attend. Instead, we want to create a buzz. Our research earlier this year shows that people want to come into the office to be with people. We want an element of connection and you almost need to create FOMO, right? I want an anchor day to be really showcasing the best of Lloyds for us. It's almost like we have to be super intentional and super coordinated about our office days now."
Anchor days for different purposes in the business
At Lloyds Banking Group, Tom and his colleagues are developing different types of anchor days:
"There are three levels of what an anchor day could look like and how they could be used:
One with the full division – maybe a thousand people, with our leaders present and visible. You might say that on a Tuesday, I work in the People and Places Division and these are together days at whichever office in the country. Those are the days for cross-functional sharing when we are trying to coordinate things like open door leader sessions.
And then I think the next layer down is where you have a hundred or so people in a region. The frequency of these community days might be once a month and could be defined and agreed by the regional hub. These are an opportunity to create that kind of cross-team cohesion in those hubs where teams can have those opportunities for sharing, teamwork and collaboration, and socialising. For us we'd have people from our wider teams, split across the hubs around the country such as Edinburgh, London and Bristol. At this level, we'd also have the regional days. We'd have for example 'Team Bristol' specific activities going on that celebrate that local community - a walking club and a choir maybe! We empower people and provide them with some budget to make it really good.
Finally, close team or 'squad' anchor days. Seven or eight people workshopping, complex problem solving, 'heads up' work rather than 'heads down' work."
Resolving hybrid working problems
This approach does seem effective in solving some potential key problems with hybrid office working:
People going into the office but finding that no one else is there
Going into the office to spend the day in online meetings
Weakened ties and loyalty to the organisation
Feelings of isolation and loneliness when remote working
Just hearing laughter in an office can be a treat after too much working from home!
"My view is that anchor days are about human connection and community above all" says Tom Kegode (standing to speak to me from his Posturite sit-stand desk, please note). "Collaboration is then the by-product of these."
Don't neglect the needs of people starting their careers, especially. As Nicky Hardy, Business Manager at technology and consulting company Capgemini says "It's so important to connect in person. There's a place for working from home and all the flexibility that brings. But we're a people organisation built on great ethics and relationships and it's important for young people to see and feel that connection, sense of belonging and team."
Is 'anchor days' the right terminology?
At this point I will reveal that one of our contributors can't bear the term 'anchor days'!
"The term 'anchor days' sound boring, dull and static to me!" says Katharine Metters, Lead Consultant in Ergonomics and Health and Safety at Posturite. "Anchors are heavy and cumbersome. Whereas these days when we get together at the office are more dynamic and stimulating. 'Community days' and 'collaboration days' feel a more active and accurate description for me. Meeting in person isn't perhaps essential for good teamwork and collaboration, but I think for a large percentage of people, it is really, really important and in certain companies, it's vital."
Trust and communication at work
"Face to face work helps us know and trust each other" continues Katharine. "Working together on a project is great for team building. You learn about your colleague's style of communication and you build respect by learning their strengths. Being given a task and needing to report back means that everyone's got their bit to do, and it's cohesive. Having shared goals helps people to enjoy making a contribution and to feel a sense of belonging.
Teams doing charity work together is also brilliant for feelings of togetherness. Get the MD in a silly overall covered in paint, that kind of thing. I was in a team where we all painted a children's home, we all got mucky, had fun and met people from other departments. We then bumped into each other in the years to come and had that shared experience.
And to help protect employees' mental health, you need to have the contact and the trust between colleagues. The quicker you build that trust, the more people will be able to support each other."
Law.com reported on concerns for a decline in good company culture and reports one partner in a London law firm saying "If you do not see people from one week to the next, except on a computer screen, how can you have a relationship with them?"
Collaborate and collide on one anchor day per week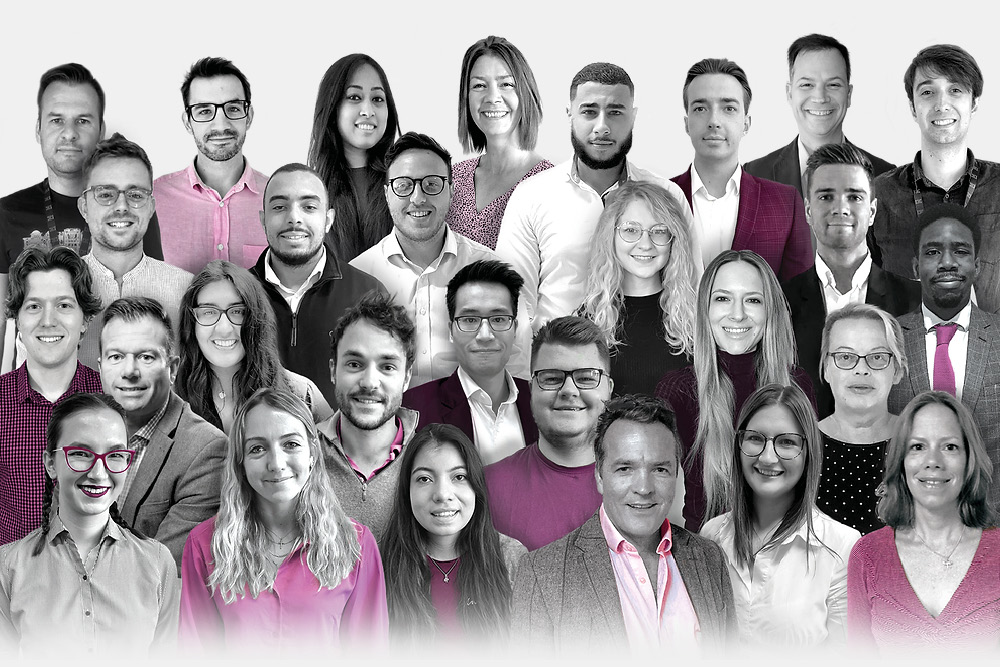 "We want people to meet and collaborate and collide, so we created anchor days" says David Hughes, CEO of Mulberry Risk in his video. "We borrowed this idea from a client of mine and we set every Monday as the anchor day. We've got high-performing individuals in high-performing teams, which can actually create some real magic. These teams need to be built and the perfect place for that is the office.
Our Cambridge team is now in a collaborative workspace rather than a traditional office – we use the Bradfield Centre in the Cambridge Science Park. This space really encourages teamworking, team building and cross-pollination of ideas with other entrepreneurial businesses which makes it an exciting place to work.
We've redesigned the London office to make it a lot more collaborative too, with meeting pod spaces for breakout as well as meeting rooms.
I've had challenge from other leaders in business who asked why we're not having two or three anchor days a week? Well, we need just the one. We've got to keep trying ideas to get the balance between having a strong and effective team and also ensuring Mulberries have a very good work-life balance.
We're individuals with different needs. There are people in my business who like regular office days, including myself. I like the energy. I've even got one person who really enjoys wearing a suit every day in the office, which I think is fantastic!
For our people who work mostly from home, we operate on a trust basis for doing their work. We focus on output" says David.
Productivity at the office
"It annoys me when I hear people say 'I've been in the office this week, I've been really unproductive!'" comments Tom Kegode. "My reply is that it's a different type of productivity. You're generating social capital, which is where the work of tomorrow comes from."
Thriving employees
The Chairman and CEO of Microsoft, Satya Nadella says that "Thriving employees are what will give organisations a competitive advantage in today's dynamic economic environment."
Anchor days are making the most of being together with colleagues to thrive as a team.
"And coming into the office should not just be about me and what I can do, but also about the role that I play within the organisation. What does the team need from me?" says Tom Kegode from Lloyds Banking Group. "Have we got the opportunity for people – including new starters – to learn? What do customers need, both internal customers and stakeholders and external customers?
We need to have an evolutionary iterative mindset and together shape the way we work in new ways."
---
Read next:
Listen to Tom Kegode interviewed by Kursty Groves in The Office Chronicles podcast.