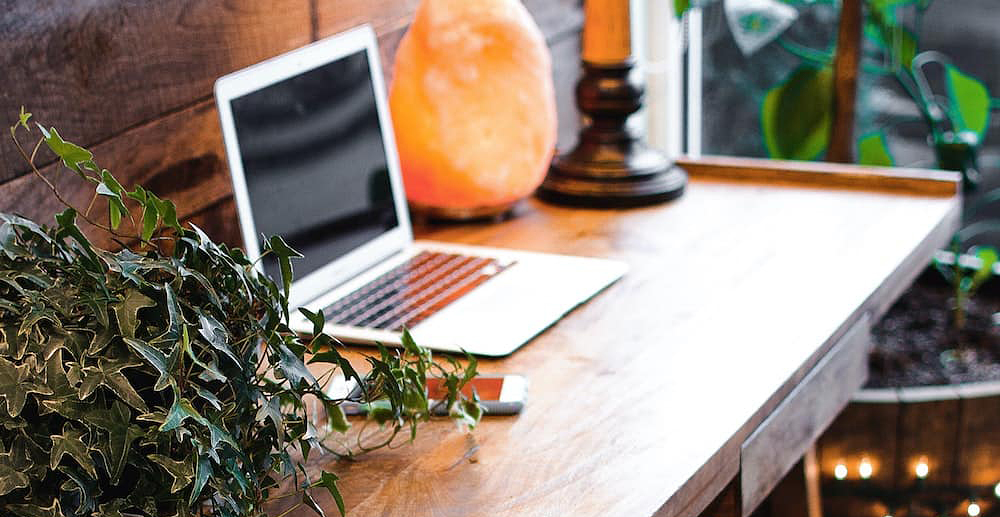 Whether you're blessed with a spacious workspace or a tiny nook, in the comfort of home or the bustle of the office, there's a lot you can do to help yourself feel inspired and at ease.
Your desk set-up can have a huge effect on your mindset and productivity. For instance, minimalists will benefit from cleverly designed, space-saving equipment. On the other hand, you may find you need to add colour with artwork and plants to boost your mood.
Whatever your style, you're guaranteed to get desk envy from the brilliant set-ups below. We've gathered together some of our favourites from Instagram to inspire you to have desk ideas of your own.
Practical but vibrant desk
View this post on Instagram
Here's a great example of a practical but exciting workspace. The coloured light feature on the back wall is beautiful, and also adds nice soft lighting to the space. Combined with the lamp on the left-hand side, it helps minimise any shadows while also preventing glare.
All the equipment is arranged carefully, and that ergonomic mouse is going to be comfortable all through the day. The only thing missing from this picture is a well-designed office chair. We think the HÅG Capisco Puls 8020 White Office Chair would perfectly match this home office's clean, bright aesthetic.
Busy but ergonomic desk
There are lots of ergonomic features in this desk set-up, from the wrist rest in front of the mouse to the lumbar support on the chair. The monitor stand is a clever addition too, as it doubles up as useful storage while also matching the oak theme.
There are lots of clever storage solutions here. We particularly like the wooden pegboard, which has been set up to hold notebooks, tools, and even miniature plants. The posters and artwork above add an extra dynamic – all in all this looks like a great space to work in.
Beachy pastel desk
View this post on Instagram
Doesn't this give you bedroom desk ideas? This workspace fits brilliantly into a corner nook, and we think this pastel shade would suit nearly any room. By adding plants and artwork on the walls, we immediately get a more homely feel.
A wireless mouse and wireless keyboard are perfect in smaller spaces like this, as they take up less room and don't introduce messy cables. Having the desk lamp positioned to the back corner helps with this too.
Flexible and functional desk
View this post on Instagram
Here's a great example of having a sit-stand desk as your workspace. These adjustable desks are designed to keep you moving and prevent the unhealthy effects of prolonged sitting, such as aches, injuries and cardiovascular disease.
Having a minimalist workspace like this is ideal, as you can adjust your desk throughout the day without too much trouble.
Natural, homely desk
View this post on Instagram
There is a great amount of natural light in this home office (we're jealous of that lush green view!) and the poster-style artwork gives you a lot to look at.
The desk is positioned to make the most of the large window, while the light curtains will be useful for stopping glare and shadows. We love the look of that comfortable ergonomic chair, too.
Clean, minimalist desk
View this post on Instagram
For some, colour and clutter can be unnecessary distractions in the workplace. A crisp, minimalist set-up like this is the perfect solution.
We like how all the cables are neatly positioned to hang behind the desk, with just a wireless keyboard and wireless mouse in easy reach. Items that are either non-essential or used less often, like remotes, are stored on a peg board off to one side. This has helped to keep the desk itself free from clutter, which in turn avoids unnecessary reaching and helps prevent work-related aches and pains.
Space-saving desk
View this post on Instagram
This incredibly compact arrangement proves you can fit a practical workspace almost anywhere. Despite space restrictions, there's still plenty of room to swivel and change positions in the comfy ergonomic chair, while the filing cabinet provides ample storage.
The only change we'd make is to add some additional lighting. A well-placed lamp would help illuminate the desk and prevent any eye strain. You can find out more about the importance of good lighting in our home office lighting guide.
Lounge desk
View this post on Instagram
The best home office desk is one that fits into your home seamlessly – and we think this is a great example. Though compact, this desk fits in all the essential equipment in an ergonomic way, and the comfy home office chair even matches the shade of the sofa.
We particularly like how the different monitors are all arranged at the perfect height, using a laptop stand and adjustable tablet stand. These are designed to prevent bad posture and protect the neck by positioning devices at eye level.
Bedroom desk
View this post on Instagram
Bedroom desk ideas and inspiration are needed more than ever due to the increase in remote working. If you're working from home and lack the space for a dedicated home office, a simple set-up like this is ideal.
Positioning your desk so that you face away from the room can help create a sense of separation between work and home. However, you may need soft curtains (like those pictured) or blinds to adjust the lighting. You can also try a screen filter to prevent glare and improve the clarity of your screen.
Cosy desk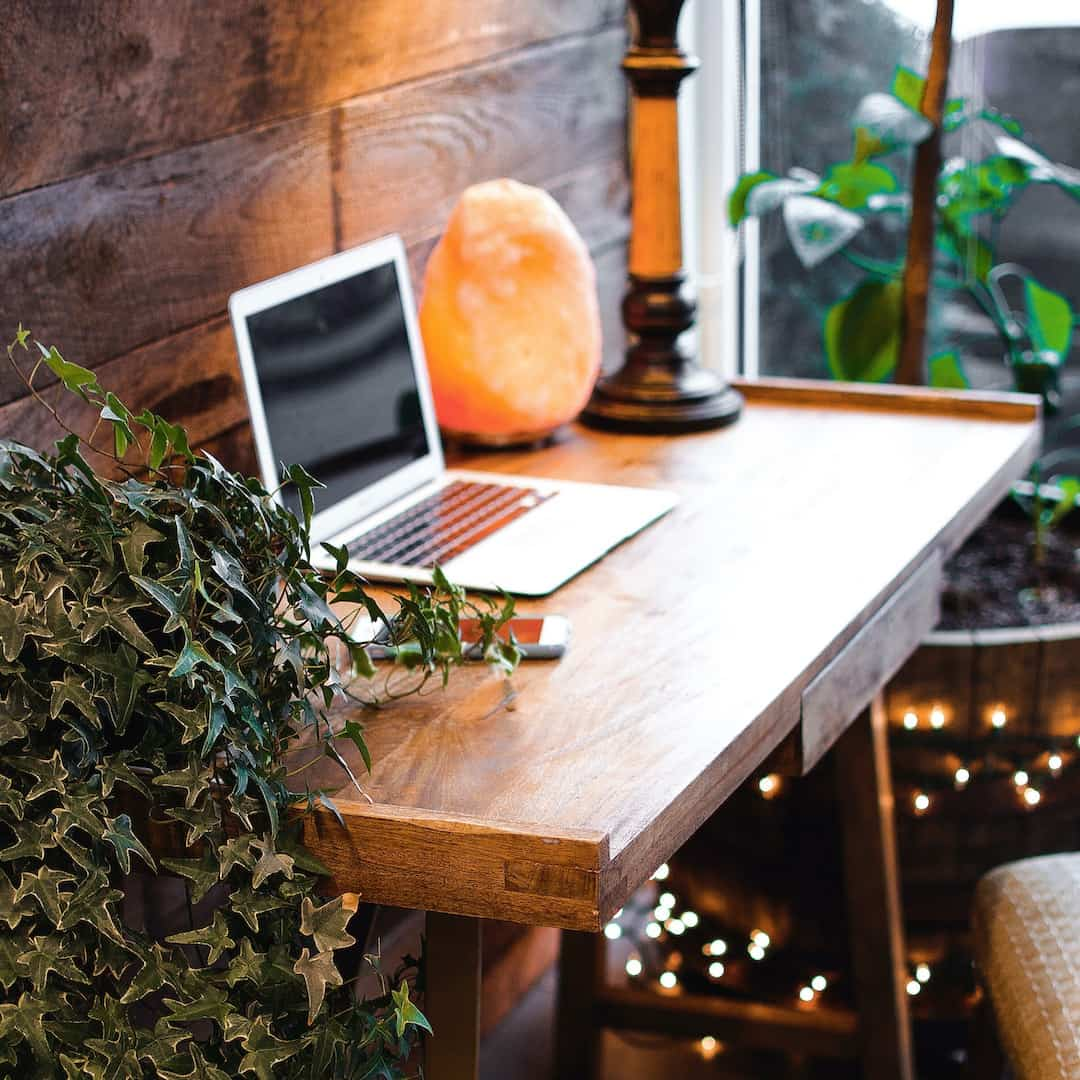 As well as how practical your workspace is, consider how comfortable you'll be there. We can spend eight hours – or more – at our desks each day so the look and feel of the space is more important than you might think.
We love the warm lighting above, from the fairy lights to the choice of desk lamp. The dark wood and lush greenery helps to make this a really cosy space. We think a few ergonomic touches are all this desk needs – with a laptop pack for instance, you'd have everything you need to work ergonomically here, as well as on the go.
Elevate your desk space
Have these enviable desk set-ups got you thinking about your own? Find more advice on our infographic: 8 workspace tweaks to get into the zone at home.
If your workspace needs added comfort, better equipment or useful accessories, we've got you covered. Browse our wide range of ergonomic chairs, desks, and ergonomic accessories to get started.