Since the beginning of lockdown, live-in couples all over the world have faced the ultimate challenge: a year of working from home together.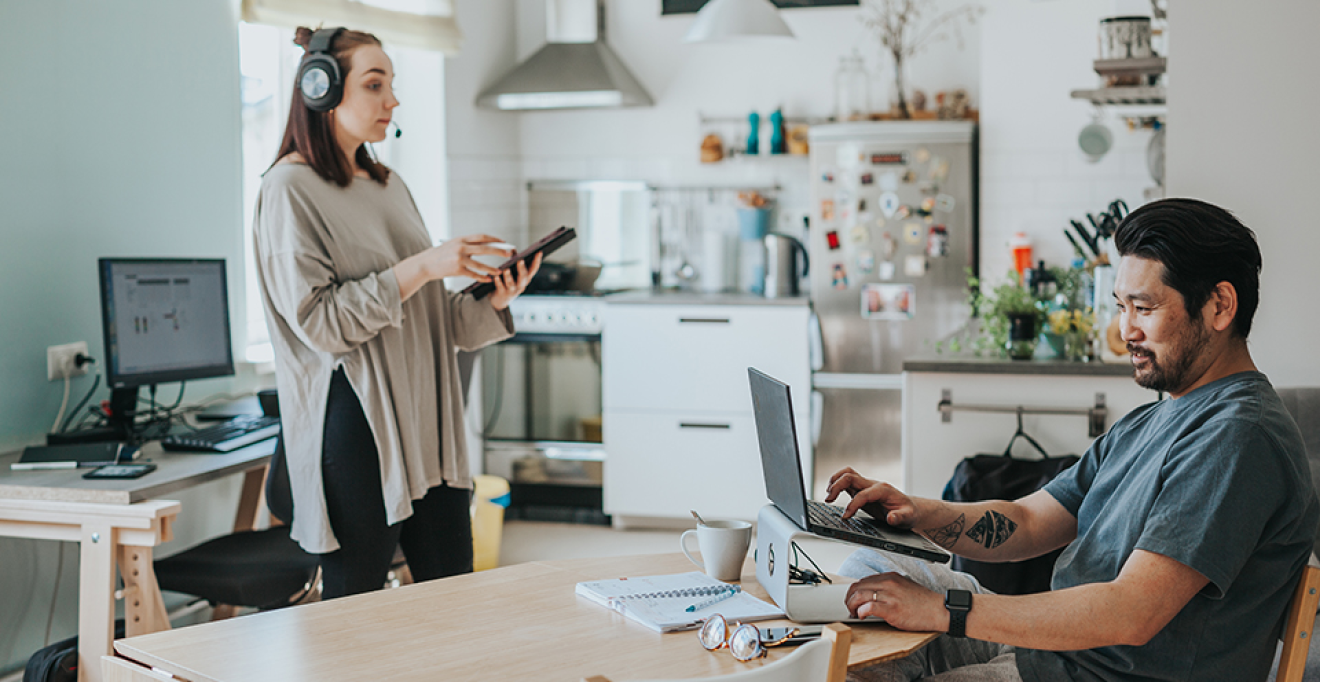 For many of us, this shift to homeworking isn't temporary. It's expected that most organisations will adopt a hybrid working model in the long-term, with staff switching regularly between working from home and the office. But what does that mean when you only have a small home office for two?
When the poet Kahlil Gibran famously advised lovers to "stand together yet not too near together", he clearly wasn't writing for pandemic-era couples. Especially not pandemic-era couples isolating together in one-bedroom flats. Not every couple has the room or budget to set up a spacious dual desk in a home office with plush carpets, cityscape views and matching tall back executive chairs. Most people have to make do with a corner of the dining table, or a desk squeezed in beside a bed.
Living in such close quarters with the stresses and pressures of lockdown has taken its toll on some couples. According to a study by Kinsey Institute into the impact of COVID-19 on marriage quality, 54% of respondents agreed that lockdown has tested their relationship.
If you're finding it difficult to effectively share a workspace with your significant other, you might need to shake up your set-up. Fortunately, we're here to show you that it is possible to create a home office for two in a small space without compromising your productivity at work or damaging your relationship. Check out our simple tips.
Agree guidelines together
Tensions can arise when you're sharing a workspace - regardless of whether you're sharing with co-workers or your significant other. We're all unique, with different needs at different times, so keeping clear, open communication is essential for avoiding conflict.
Get together to discuss each of your expectations first. You don't have to draw up a formal workplace policy (unless that's how you roll) but formulating guidelines together can help you keep the peace in moments of stress.
Here are some great points to discuss:
Will you each have a dedicated workspace, or will you share equipment?
Will you have a cleaning routine?
What happens to work equipment at the end of the day?
Will you go to another room to take calls?
When will you take breaks? Will you take them together?
Is music okay?
How will you agree on room temperature?
How will you keep your work and personal lives separate?
Choose the right dual home office products
If you're hoping to build a home office for two in a small space, you'll need to source the right products to avoid poor postures and the resulting aches and pains. Luckily, we're here to help. We've picked out some home office essentials perfect for small, shared spaces.
Portable, compact desks
If you use a laptop and you're looking to increase your activity levels, we recommend the Portable Height Adjustable Desk v2. This adjustable sit-stand platform can be raised, lowered, tilted and moved wherever it's needed to suit your work pattern. For couples coworking in tight spaces, the portability makes it easy to move from room to room whenever privacy is needed.
For a fixed-height option, the Smart Slot Homeworking Desk offers easy, slot-together assembly that can be quickly dismantled if your workspace needs to become your living space at the end of the day.
Homeworking ergonomic chair with adjustments
With top marks for affordability and a high level of ergonomic adjustments, the Homeworker Mesh Back Ergonomic Office Chair is a safe bet for couples working together. The mesh back offers a slimmer, lighter profile that's less likely to crowd out your small home office or work area as a pair.
Invest in noise-cancelling headphones
Office headsets help you manage calls in a more efficient, ergonomic way, freeing up both hands so you don't have to reach repetitively for your handset, and feeding you clear, crisp audio that cancels background noise. There are lots of benefits to using a wired or wireless headset - but for couples sharing a workspace, the key attraction is the privacy they offer. Try the affordable yet effective JPL 502S USB Noise-Cancelling Headset for maximum comfort and call quality.
Carefully design your two-person home office layout
It can be helpful to carefully plan your two-person home office layout on paper before you start building and moving furniture around. Here are some great tips to keep in mind:
Measure your room and draw a floorplan.
On a separate piece of paper/card, draw the basic outline of the furniture you want to set up (to scale) and cut them out so you can arrange them in different ways on your floorplan.
Consider:

Where the sources of light will be
Whether you want to be facing each other
Routes to the exit/entrance
Access to plugs
It's also important to consider aesthetics. You may each have a different set of equipment based on your unique anatomy and preferences, but can you choose similar finishes and colours? Creating an aesthetically pleasing environment that you both enjoy working in can make all the difference to your productivity.
Remember, clear communication and compromise is key! Browse more home office furniture from Posturite to create your ideal couple's workspace.