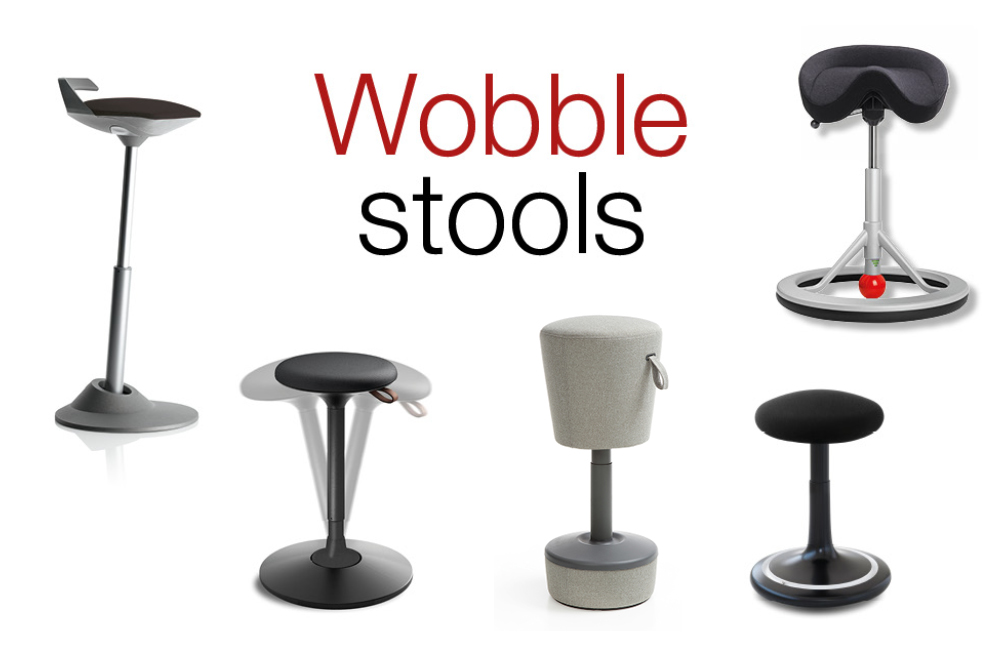 Dismiss all thoughts of uncomfortable and rigid bar stools and basic primary school stools and instead get ready to try designer award-winning ergonomic stools which move a little and can feel really comfortable. (Fun at work - sounds appealing?)
Being able to move while you work is good for your overall posture. And maybe you have a job for which sitting in a traditional chair all day is not quite right – but you'd like some support for your lower limbs rather than standing all day. Enter the wobble stool!
What's not great about standing to work all day?
Standing for long periods of time can put stress on your lower back, hips, knees and feet. So it's beneficial to have the chance to take a load off and perch on a stool.
Which working environments might suit a wobble stool?
Manufacturing
Dentistry
Teaching
Hairdressing
Retail
In these jobs and many more, you need to move and might frequently switch between sitting and standing. Some active working stools are height-adjustable and allow you to swivel and also to reach forward and to the sides. They have a stable base to enable this. It can take a while to get used to a wobble stool, as it may be quite a different position than you've been used to.
"An 'active stool' tends to make people sit taller, which is great" says Katharine Metters, Lead Consultant in Ergonomics at Posturite. "It opens up the hip angle, encourages a downward slant to the thigh, therefore encouraging that good upright position which is similar to when riding a horse."
Because the movement is key – movement is good for our backs and of course our overall health. Wobbling shouldn't be restricted to jelly alone! Active sitting is the name of the game.
Here are 5 wonderful wobble stools for you to choose from (in random order):
1. The Muvman Stool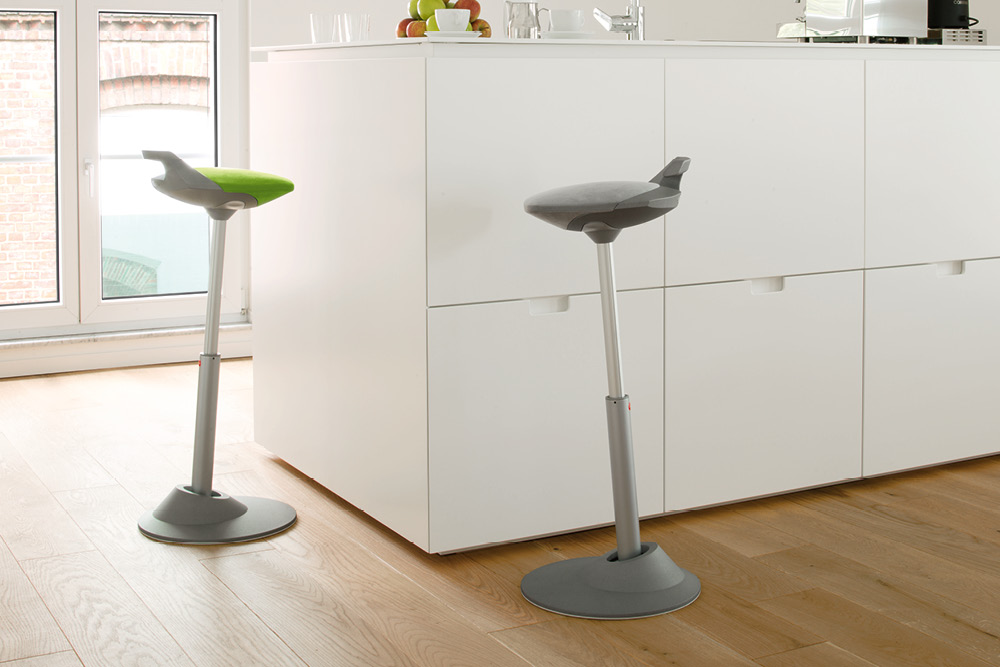 Move while you work: the good-looking and comfortable Muvman Stool promotes itself as 'When your feet don't notice you've stood all day'. It's ideal for a 'semi-standing' position to work and offers excellent movement: 4° back and forward and side to side. This wobble stool boasts Flexzone® technology for both support and freedom of movement and automatically adapts to your sitting position.
Want to improve circulation while you work? The Muvman can keep your hips flexible and your leg muscles active, improving circulation.
Change the height of your Muvman using the easy button under the seat and use it at a height-adjustable desk if you like.
2. The Backapp Hipp
Contoured to fit the body, the seat of the Backapp Hipp is soft and flexible for a natural feel while you work. This is the stool for you if you'd like gentle motion while you sit. It features a ball for adjustments which you use to increase or decrease the amount of wobble you'd like, and how much you'd like to exercise your core.
You can change the sitting height as you wish between 56 cm to 82 cm - handy!
3. The ONGO® Classic Stool
For movement while sitting, the ONGO® is another great choice. German founder Eberhard Lenz says "It's not human nature to sit more and longer. On the contrary. We are only really productive when we move - both physically and cognitively. Because every change of position, space, location and perspective creates new inspiration."
Quite right too, and the clever curved base of this wobble stool reacts to every shift in weight and then activates the muscles and blood circulation. It's available in a choice of two heights and a dozen seat fabric colours and was the winner of The Active Office Awards in 2022.
4. The Profim Mickey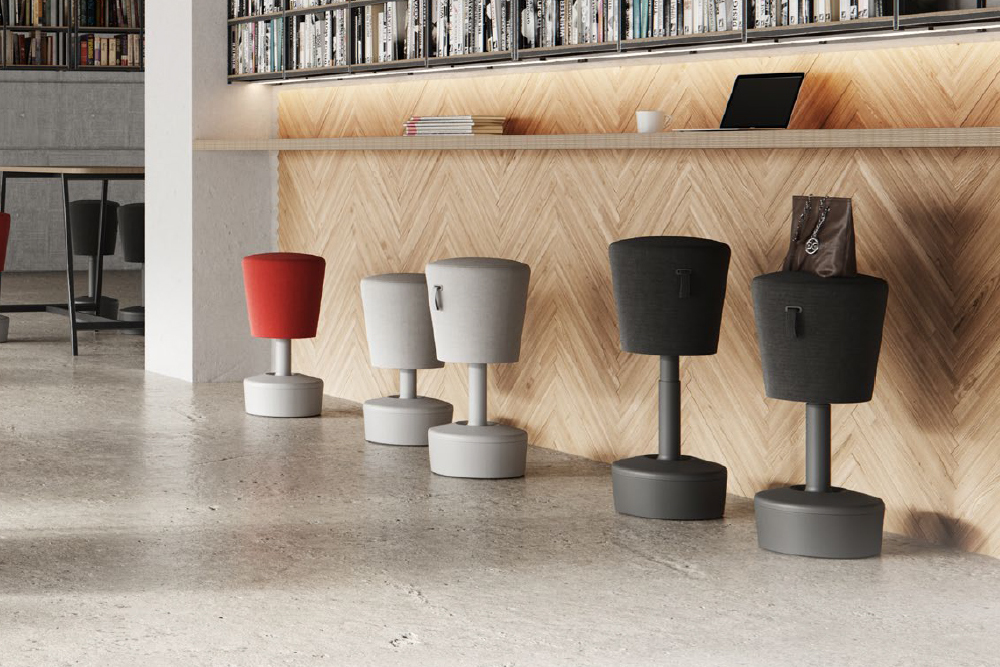 Find a comfortable setting quickly on this cute Profim Mickey stool, with its quick and easy height adjustment and its sideways tilt of 10°. The way it swivels and swings from side to side gently promotes movement – and some people find this helps their thought process. You can extend it quite high for perching when doing your standing work too.
5. The Cloonch Standing Seat
The quirky name 'Cloonch' from the German seating design team is a bit Marmite, but you might well love the effect on your posture of the Cloonch Standing Seat. Enjoy 360° pivot and pendulum movement to keep your core engaged and your muscles activated while you perch. The seat foam is the kind used in orthopaedic mattresses – extra comfy!
Available in black, red, navy blue and royal blue, the Cloonch is a lightweight yet sturdy wobble stool that's ideal for workplaces and works well with a height-adjustable desk.
Active sitting
Don't be daunted by the concept of 'active sitting' if you're not much of a hike-up-a-mountain kind of guy/girl. We're talking small movements and gently but frequently moving to ensure that you're not sedentary.
Movement stools aren't right for every task, situation, and every working person. Ergonomists help match the right equipment to the task. If you need any advice, please email [email protected] or start an online chat with the Posturite product experts. Sarah from Posturite says "I've got a Muvman stool in my kitchen, to use at my breakfast bar now and then. It's great but it's not right for any long-term computer work or to be at my main workstation. In my kitchen it's a high work surface and I can tuck the stool away underneath when I'm not using it, whereas an office chair just would get in the way there."
Wobble stool reviews
Pamela bought a Muvman Stool as a gift for a friend who had been having backaches:
"Since he started standing to work at his desk, I thought a stool like this one could allow him to perch, to complement his standing. His back's been a lot better since switching between standing, sitting a little and perching occasionally."
Ian also found the Muvman Stool worked well for "alternating standing and perching. It's a healthier way of working. Takes a bit of getting used to: works well."
Andy has waved goodbye to his backache:
"My Backapp helped me to open my posture and keeps me moving during the day. After sitting on Backapp I've become more flexible and my back ache is now gone. Just wish I had come across it years ago!"
I wish you well with your wobbling too.