The 'shoffice' is blooming popular right now. Are they dream work venues, these 'shed-offices' that have shot up amongst the flower beds of Britain in the last three years?
As workplaces go, sitting in a stylish garden office on your own lawn in a peaceful space devoted to your work could be pretty pleasant. Let's look at the pros and cons of garden offices and how we can make them comfortable for long-term working. Ergonomics can definitely play its part in creating the ultimate garden office for you.
Homebuyers are increasingly keen to have a dedicated home office space. "Home offices are mentioned in the majority of our conversations with prospective buyers" says Estate Agent Luke from Michael Graham in the south of England. "Having a home office in the garden away from the house can now make or break a property deal." It's true that pitching to that big cheese client from your living room surrounded by an overflowing laundry basket, a half-built Lego tractor and a horizontal gaming teenager is tricky and you *Need. Some. Serenity*.
"I love the one-minute commute from my house to the bottom of my garden" enthuses Beverly, a customer of Smart Garden Offices. "My garden office is positioned underneath the trees and being able to look out of my bi-fold doors provides a very tranquil working environment."
Advantages of a new garden office
Increased floor space
Separate work and home life – without commuting to a shared office
Attractive environment with green and pleasant views
Quicker to install than an extension
Lower financial outlay than an extension
Could be a good investment - "I would estimate that the value-added for a garden office would be about 1.5x the cost of the building installation", says Robert of Nutbrook Property.
We could probably prefix 'potentially' in front of many of the above.
The cost of garden offices varies but many complete and installed options are around £6,000 - £22,000 in 2023, depending on materials, size and demand in your local area. In terms of self-assembly, Checkatrade say that the ballpark cost for a mini garden office delivered for self-assembly is on average £5,250, with assembly by two tradespeople for that small size being on average £1,250.
Disadvantages of a new garden office
Losing part of a garden and its natural environment for wildlife, children and adults to enjoy
Not always warm enough in the winter, though it depends on your choice of insulation
Could be too hot in the height of summer, but again depends on your choice of materials
Double-glazed doors and windows in your garden office help to keep you warm in the winter and comfortably cool in the summer and you can choose to have air conditioning installed too. "Something I do need to do is have heat-reflecting blinds put into my garden office" says Kate from East Sussex. "It does get very hot in here in the summer."
Do I need planning permission for a garden office?
Usually you don't need planning permission for a garden office in the back garden in the UK, because it counts as an 'outbuilding' and therefore comes under 'permitted development' rules – but do check the conditions of this carefully.
What furniture will I need for my garden office?
With all the excitement of creating this gorgeous new garden office, don't forget to take care of your body and help to prevent aches and pains by choosing some ergonomic office furniture to take centre-stage. Subscribe to Posturite emails to get 20% off your first home office equipment order as well as useful guides on setting up a home office.
The office chair you use in your garden room for example should support you in a suitable position and promote the movement that your body needs. The office chair features you'll need to achieve a supported position and prevent discomfort are a sturdy 5-star base and seat height and back adjustability as a minimum.
How large does a garden office need to be for one person?
For small gardens, a size of at least 2.1m x 2.1m for a garden office is advisable.
Kate Jackson, a Chartered Town Planner from Buxted, is pleased with her choice of a garden office at 3m x 3m in size. "It is the perfect size for one person! I have room for shelving, my office chair plus an extra armchair, a nice big desk and I even manage to grow a few tomatoes in here in the summer!"
It's important that your garden office is large enough to be comfortable and not too cramped to position yourself ergonomically. Visit a showroom to get a good idea of how different sizes of garden office will feel once they're furnished.

Can I get Wi-Fi in my garden office?
You'll of course need to supply your garden office with electricity and a good internet connection too. A qualified electrician will need to set up an armoured cable from your main electricity supply in your home to your garden office. For your internet, you could use a Wi-Fi extender which replicates your home Wi-Fi; insert one of the plugs into a wall socket in your garden office, insert the other plug into a wall socket in your home and connect the patch cable into your home router.
If your garden office is further away from your house or your Wi-Fi signal isn't so good, you could arrange to run a full armoured CAT 6 network cable from the router in your house to the garden building. Your garden office supplier will help.
How can I heat a garden office?
A basic summer house costing less than a thousand pounds is only going to be usable in good weather, so try to go for an insulated option. To keep you cosy and avoid your teeth chattering horribly during your Teams calls, your heating options could be a wall-mounted electric radiator, a stand-alone or wall-mounted convection heater (these heat the air quickly), or an oil-filled radiator. Aim to get a 24-hour timer and a thermostatically-controlled heater to pre-warm a garden office before your day begins, switch itself off when it gets sunny, and prevent your garden office from becoming too cold overnight and affecting your computer.
Climate control systems are recommended to make your garden office suitable for year-round use too. They can also be cost-effective, at around 10p per hour versus 52p an hour for a 1.5kw electric heater.
What environmentally friendly materials can a garden office be made from?
You can opt for timber to be 'FSC certified'; FSC stands for the Forest Stewardship Council which certifies forests to ensure they meet the highest environmental standards.
Ask your garden office supplier:
How they will recycle the waste materials and off-cuts? Ideally they will contribute zero waste to landfill.
If the materials are sourced locally?
Can the materials be recycled?
Many garden room roofs are not strong enough to carry the weight of solar panels but discuss this with your garden office specialist. To save energy, give your insulation serious thought and look for double glazed windows, draught-proof doors, heat-retaining walls and flooring. You could choose thermal curtains too. Here's an infographic guide to saving energy in a home office.
Reminders for your homeworking upgrades
Set aside some budget for ergonomic office furniture – you won't feel very serene in your garden office if your bottom is residing on a cheap, unsuitable chair.
Take this opportunity when upgrading your work venue to upgrade your work habits too, to look after your health. Aim to be less sedentary by taking breaks and consider using a sit-stand desk so that you're changing posture and moving your body.
Remember that your options to work from home may change in the future.
Ready for a new garden office?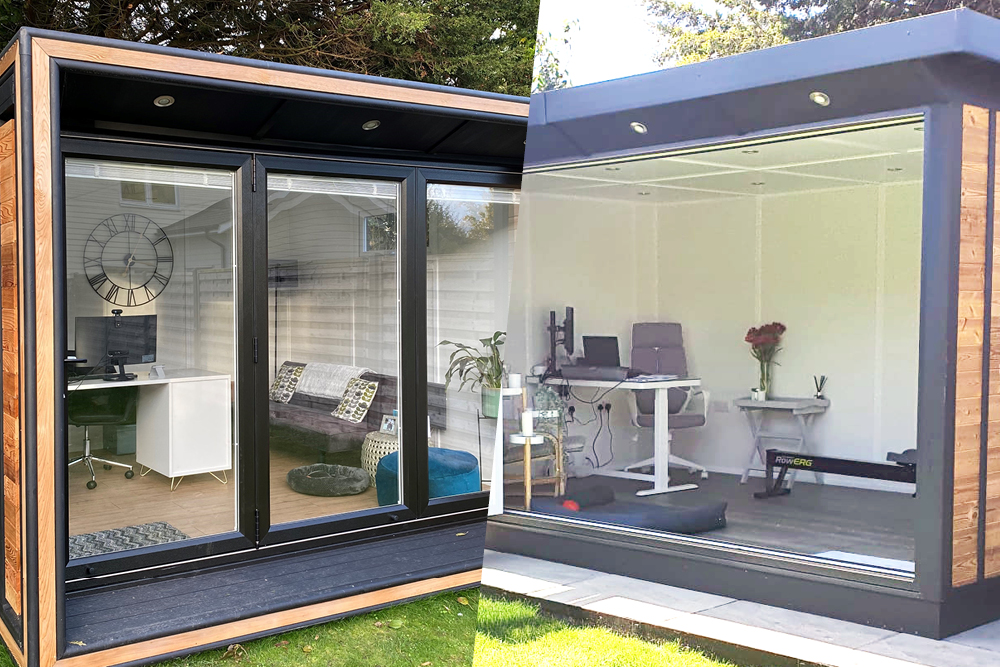 So even if your garden lacks the touch of Monty Don's talented green fingers, it can be a brilliant venue for your office in this new era of working from home and hybrid working.
With careful consideration for your working comfort and wellbeing, you'll be ready to climb the career ladder from your very own garden office at home.
Rhianne and Oliver from Wiltshire took part in Sarah Beeny's 'Renovate Don't Relocate' TV programme and invested in a garden office from Smart Garden Offices. Sarah Beeny commented:
"When working from home, I think it is really important to firstly divide your working space from your home space, but also to be able to shut the door, because it is really good for the mind to be able to go 'that's work done'".
---
Read next: